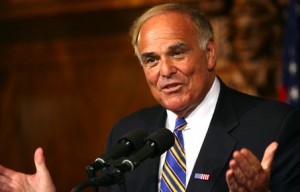 If the Democrats intend to reclaim Sen. Pat Toomey's seat in 2016, they'll need one thing for sure: a strong candidate.
At least that's what former Gov. Ed Rendell told The Washington Post about the upcoming election season.
"Candidates matter," Rendell said. "The lesson of 2010 is that even in the wave election, where Republicans nominated candidates with flaws, they lost. So we can't just nominate anybody. We've got to find really good candidates."
The national Democratic Party is already setting a plan in motion to win back the Senate majority, and the map is in their favor — seven of the 24 Senate seats Republicans will be defending are states that President Barack Obama carried in the past two elections.
And one of those seven seats belongs to Toomey, whose race has already been deemed a "toss up" and a "race to watch."
Rendell didn't say whether his party had found that "really good" candidate to challenge Toomey yet, but he did say Toomey's job performance will make him a tough competitor.
"Senator Toomey has done a good job politically," Rendell said. "I think he strengthened his position in the Philadelphia suburbs with his leadership on the gun issue."
Rendell's failure to comment on Toomey's potential Democratic challenger could come as a blow to the only declared Democratic candidate so far, 2010 Democratic nominee Joe Sestak. The former governor heavily influenced former Sen. Arlen Specter's switch to the Democratic Party in 2009. Sestak beat out Specter by 8 points to claim the 2010 nomination.
Rendell is not the only one less than thrilled with a Toomey-Sestak rematch. Sestak has received lukewarm support from his party, many of whom seem to be holding out for another candidate to enter the race.
Two other Democrats have recently expressed interest in the 2016 bid. Former Rep. Chris Carney announced last month that he is "weighing" a run, and website registrations indicate that State Sen. Vincent Hughes may throw his hat in, as well.