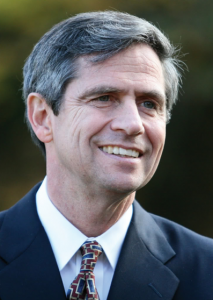 After a rough patch last week, Joe Sestak and his campaign staffers finally have something to smile about – at least for now.
A recent Robert Morris University poll shows Sestak with an advantage over incumbent Sen. Pat Toomey in next year's election.
The former congressman was supported by 34.2 percent of respondents, while Toomey took 28.5 percent of the support.
There is plenty of room and time for these numbers to change, with 37.3 percent of those polled undecided 18 months out from the election.
Sestak is also way ahead in a primary contest against Allentown Mayor Ed Pawlowski, according to the poll, as he quadruples his only opponent's support in the poll – 44.7 percent to 11.1 percent.
44.3 percent of voters are still undecided in that primary race, with most probably waiting to see whether any other candidates emerge.
Montgomery County Commissioner Josh Shapiro, who was urged by several national Democrats to run, has decided not to run. Sestak will pose a tough challenge for any Democrat in the primary and only lost to Toomey by 2 points in 2010.
The RMU poll is the first time Sestak has led Toomey in any 2016 poll. A PPP poll two weeks ago showed the incumbent with a 4-point lead over Sestak.
The poll sampled opinions of 529 Pennsylvania residents statewide. The survey was conducted May 8-16, 2015. All surveys were conducted using an online survey instrument. The poll has a +/- 4.5-percentage point margin of error at a 95 percent confidence level on a composite basis.