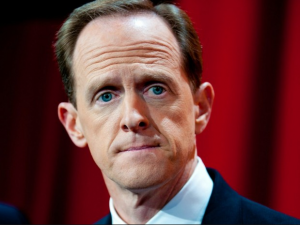 Pat Toomey harshly condemned his party's presidential nominee.
The Senator was responding to comments Donald Trump has made about a judge assigned to a case involving Trump University. The GOP nominee had stated that the judge couldn't fairly decide the case because he was "Mexican" (the judge was actually born in Indiana).
"Outrageous, disturbing and absolutely ridiculous," is how the Senator described Trump's statements to Sabrina Siddiqui of The Guardian.
Earlier, though, Sen. Toomey was much more reluctant to talk about Trump.
The Washington Post reported that the Senator "rushed into an elevator as reporters pursued him with questions about the remarks."
The McGinty campaign obviously enjoyed that story:
Just another day in the life of @PatToomey (R-Members Only Elevator) https://t.co/WLqbnOhj9m pic.twitter.com/sPV6xrGQ7g

— Izzi Levy (@chevytothe_levy) June 7, 2016
The episode shows yet again, though, that Toomey will have to deal carefully with his party's presidential nominee over the next five months.