No sooner did former president Donald Trump endorse U.S. Senate candidate Mehmet Oz than some fissures began to show in Trumpworld.
Trump released a statement on Saturday announcing his support of the heart surgeon turned TV celebrity.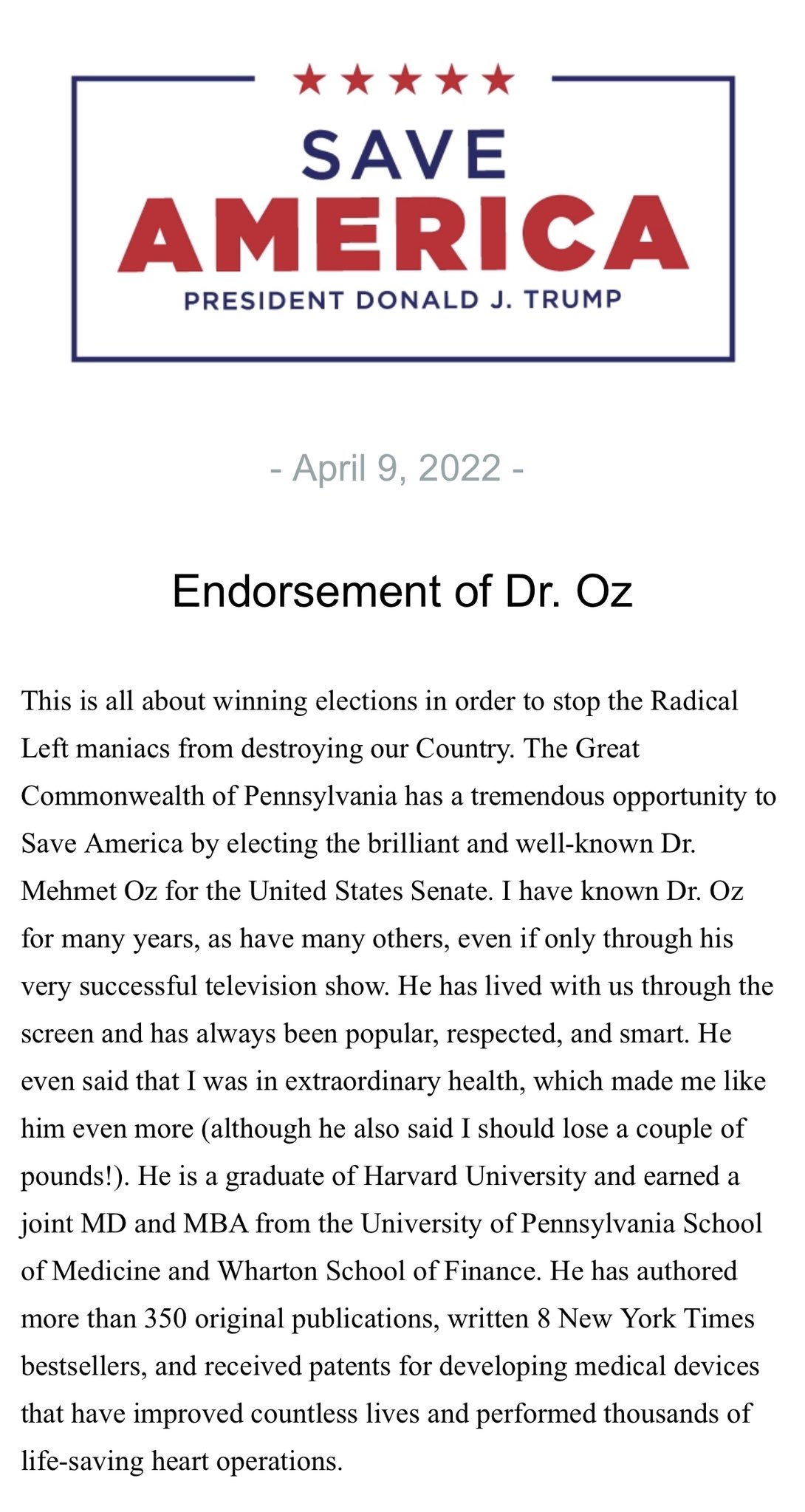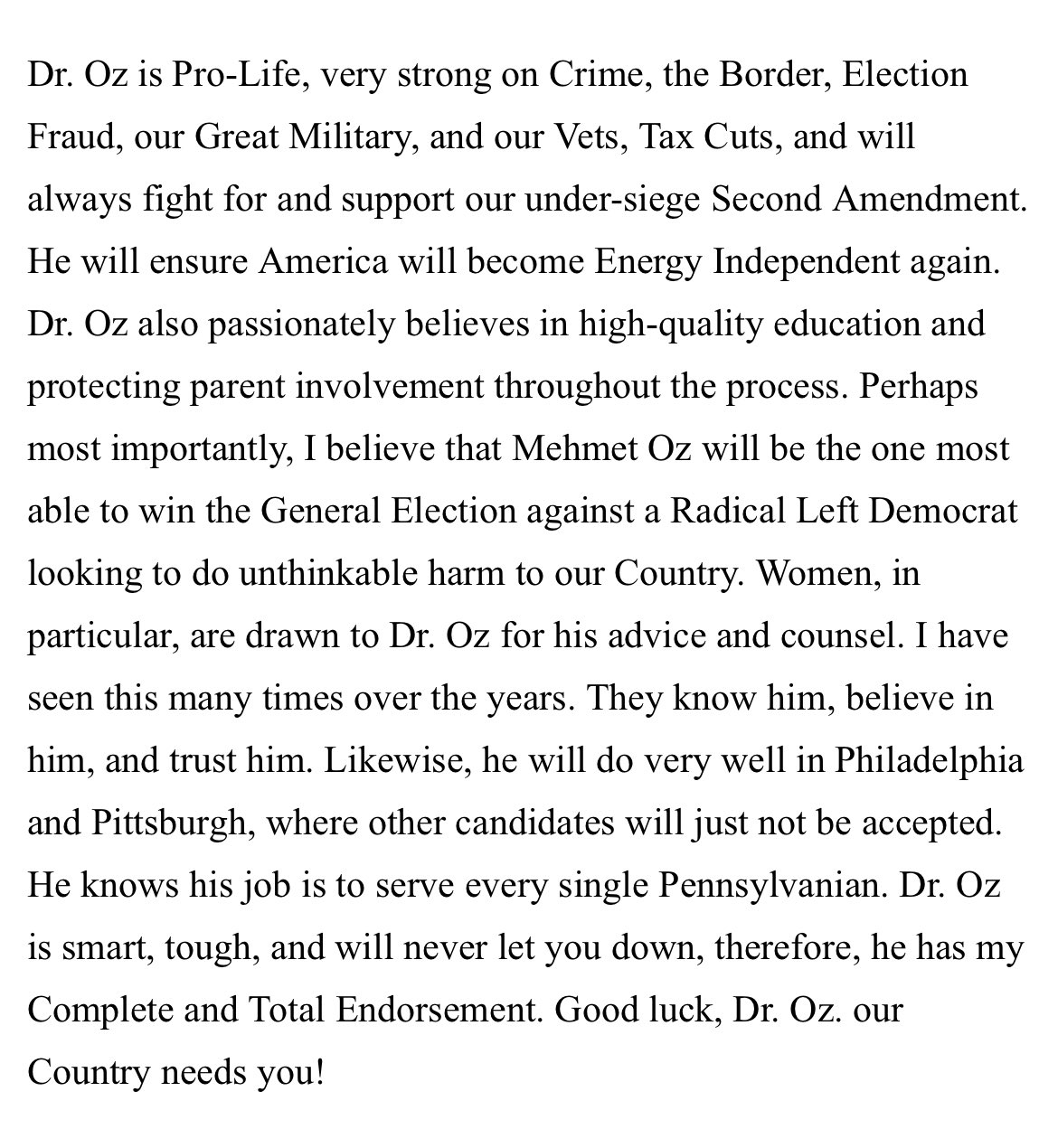 "This is all about winning elections in order to stop the Radical Left maniacs from destroying our Country," Trump said. "I have known Dr. Oz for many years, as have many others, even if only through his very successful television show. He has lived with us through the screen and has always been popular, respected, and smart."
First, it was former Trump endorsee Sean Parnell, who took to Twitter to voice his displeasure.
I have enormous respect for President Trump. I was honored to have his endorsement in PA.
Twice
But I'm disappointed by this. Oz is the antithesis of everything that made Trump the best president of my lifetime—he's the farthest thing from America First & he'd be very bad for PA https://t.co/kuTo4pp53U

— Sean Parnell (@SeanParnellUSA) April 9, 2022
Last night on her Fox News show, "The Ingraham Angle," host Laura Ingraham also spoke out when questioning former Trump aide Kellyanne Conway about the move.
"You wouldn't answer the question as to whether it was a mistake, I think it was a mistake," Ingraham said.
"I'll say it, I'm not afraid to say it. It was a mistake to endorse Dr. Oz.
"I think he is probably the greatest guy ever, it is nothing personal but I think it was a mistake."
Without explicitly saying it was a mistake, Conway said it was a confusing decision and highlighted Trump's endorsements were highly sought after.
"Here is what I think about it, I think it confused many Republicans and conservatives in Pennsylvania because they have seen Oz at his own words on video.
"Against guns, for abortion, praising Hilary Clinton as one of the most brilliant women, smartest women he has ever met, being for Obamacare and so on and so forth."
Former Trump strategist Steve Bannon said, "You got to really commit. First off you got to spend money, you got to put a lot of money into it. You got to commit money, you got to commit time and effort,' he told the John Fredericks radio show.  'I don't think there's been the focus on it. I don't think one or two rallies is going to do it. You have to have a plan when you endorse, that they have to win,' said Bannon.
And Joel Pollak, senior editor at-large and Breitbart host, tweeted his concerns.
This endorsement could divide MAGA in the only way that matters: he could lose America First conservatives over it https://t.co/UC22IlLdFy

— Joel Pollak (@joelpollak) April 10, 2022
The Columbia Journalism Review noted that "the Trump-endorsement obsession, at its worst, is priming the press to draw overly generalized national conclusions from elections where a messy array of specific local factors are at play. "We're all America First people," an activist told Politico recently after Trump made an odd endorsement in a North Carolina US House race, "but we don't need Mr. Trump or anybody else bringing candidates in who don't know nothing about farming, don't know anything about agriculture and the roads here and the needs we have."
Pennsylvania state senator Ryan Aument (R-Lancaster) said, "Certainly there are some voters that look to those endorsements, but, at the end of the day, I'm not convinced that's going to change the trajectory of this race. Certainly, voters that I'm hearing from are concerned with Oz's shifting positions on whether it's the Second Amendment, whether it's life … really core Republican issues."
"President Trump was very out of sync in picking Oz," said Dave Ball, chairman of the Washington County Republican Party, to Salena Zito. "I'd like to know who it is who lives in Pennsylvania that knows the voters well told Trump to pick Oz."
We also need to keep in mind that while some candidates might win because Trump endorsed them, it's clear in other cases that he is endorsing candidates because he thinks they'll win.
Trump has already made 133 general endorsements in 2022, according to Ballotpedia, including 14 for governor and 16 for Senate, including Parnell. Five of his Senate endorsements have been for challengers or for an open seat, including Kelly Tshibaka (Alaska), Ted Budd (N.C.), Adam Laxalt (Nev.), Herschel Walker (Ga.) and now Oz.
Only two endorsements – Oz and Geoff Diehl for governor of Massachusetts – have been for candidates in states above the Mason-Dixon line.
It's clearly in Trump's interests for the media to report that his influence over the Republican Party remains strong. If he tees up endorsements that he thinks will send that message, then reporting that his influence remains strong clearly plays into his hands.