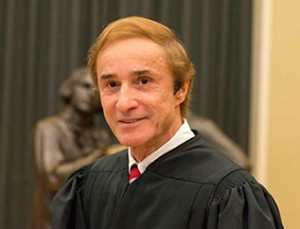 The Pennsylvania State Troopers Association endorsed State Supreme Court Associate Justice Correale Stevens for one of the three open positions on the Court this November.
Stevens held office in the state House of Representatives from 1981 to 1988 for the 116th District before being appointed to the high court by former Governor Tom Corbett in July 2013.
Yesterday, leaders of the statewide association including President Joseph Kovel met with Stevens in Harrisburg to formally endorse his candidacy.
"Safety of our law enforcement officers has to be a top priority of all three branches of our government," Stevens said. "Law enforcement officers risk their own lives to protect law-abiding citizens and the integrity of our society."
"When my grandfather Tony Stevens served as a Hazleton City policeman, the serious crimes at that time were mostly escorting coal miners home who had too many shots and a beer."
"The story I was told was he was on horseback patrol, witnessed a purse snatching, and rode his horse right into a local tavern in pursuit of the thief."
Stevens has also been endorsed by Firearms Owners Against Crime as well as receiving the highest recommendation from an independent committee of the Pennsylvania Bar Association. The troopers have also endorsed Republican candidates Mike George and Judy Olson as well.
"Today our law enforcement officers face a myriad of much more serious challenges and often are in harm's way than in days past because of the irresponsible or criminal acts of others," Stevens added.
"Unfortunately, people are afraid to walk in their own neighborhoods, children do not feel safe at school, the elderly are vulnerable victims, all because of crime."
"In addition to protecting the rights of the accused, we in the courts have to also protect the rights of victims of crime and law enforcement officers," Stevens concluded.