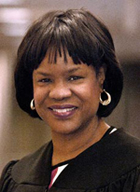 On Monday, we reported that Pennsylvania Supreme Court candidate David Wecht had issued a five-point plan to clean up the judiciary. The Democratic candidate and current Pennsylvania Superior Court judge has received his first rebuttal from the competition.
Republican candidate Cheryl Allen, who also serves on the Superior Court, has released her input on Wecht's proposal to the candidates.
"While the spirit of Judge Wecht's five-point plan is appreciated," Allen said.
"Restoring faith in the Court is not so complicated a matter."
Just as a refresher, Wecht's five points are as follows:
Absolute ban on all gifts to judges
Tightened Anti-Nepotism Policy; Sunset Employment of Judges' Relative
Require judges to rule on the record in writing on all motions for recusal
Mandated ethics courses for all judicial candidates
Television broadcast of court proceedings
Allen has stated that she agrees wholeheartedly with the complete ban on gifts but disagrees on the need for cameras in the courtroom. She contend that this won't necessarily curb corruption.
"Backroom deals don't happen in the courtroom," Allen said, noting that certain proceedings require confidentiality to protect victims and juveniles.
When the State Supreme Court implemented the current anti-nepotism policy, the regulation was not retroactive, which meant that relatives who were currently court-employed were grandfathered in and could retain their positions. Allen favors Wecht's stance on the reform of this law.
"A true effort to curb favoritism should apply to all, including relatives of sitting judges and justices and should be implemented throughout the court system," Allen said.
While Wecht would like to require judges to "rule on the record in writing" for all motions of recusal, Allen does not disagree but said that it's only part of the answer. She said that judges should be more diligent about recusing themselves when appropriate.
"If I golf with you last week, and you appear before me this week, do the relevant parties have a right to know? Absolutely," Allen said.
Although Allen embraced parts of Wecht's five-point plan, she stressed that all judges have previously taken courses on ethics — either as lawyers or judges — rendering any more programs irrelevant.
Allen recognized the "recent events" to which Wecht referred but offered a dissenting opinion on the matter.
"The problem is not that judges don't know, or haven't been taught," Allen said.
"Corruption occurs when a judge makes a conscious choice not to do what's right."
The Republican candidate admitted that Wecht raised some good points but she believes in a less-drastic approach to rehabilitating the state's judicial image.
"At this level of Government, it's not about politics," Allen said.
"It's about doing the right thing regardless of whether it's popular or politically expedient."
"That's how we restore faith in the court, and I stand firmly beside any and all who are so committed."