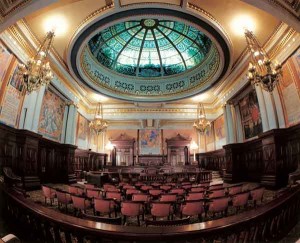 Monsignor William Lynn could be released from prison later this week, after the PA Supreme Court upheld a lower court's ruling to reverse his 2012 conviction on child endangerment charges.
The state Supreme Court rejected an appeal from Philadelphia DA Seth Williams' office to overturn a December 2015 Superior Court ruling ordering a new trial for Lynn, the first Catholic Church official to be convicted for supervising and relocating priests accused of child sexual abuse, Joseph A. Slobodzian of the Inquirer reports.
Five justices on the high court concurred with the lower court's ruling that the prosecution's use of historical information on clergy sexual abuse – including some cases from over 60 years ago – had affected Lynn's right to a fair trial.
Lynn was first convicted four years ago for his role in reassigning accused priests to new parishes as archdiocesan secretary for clergy between 1992 and 2004, according to the report.
In April 2015, the Supreme Court reinstated Lynn's conviction after the Superior Court had overturned it on other grounds.
Defense attorney Tom Bergstrom will now seek Lynn's release from prison on his original $250K bail, with his client having almost served the minimum of his three- to six-year sentence, the Associated Press reports.
"Currently, he is an unconvicted and unsentenced individual, and he should be released on bail pending a new trial, a fair trial this time," Bergstrom told the Inquirer.
The Philly DA's Office has not commented on plans to re-prosecute Lynn.