The pre-election financial reports are finally available and the 2023 Pennsylvania Supreme Court race between Republican Carolyn Carluccio and Democrat Dan McCaffery will be remembered as one of the most expensive in the Commonwealth's long history.
AdImpact, an ad tracking company, estimates that approximately $16.5 million has already been spent in competition for the open seat between the two parties. That figure is seven times greater than the amount allocated for the Allegheny County Executive race and 15 times that of the Allegheny County DA or PA Superior Court races.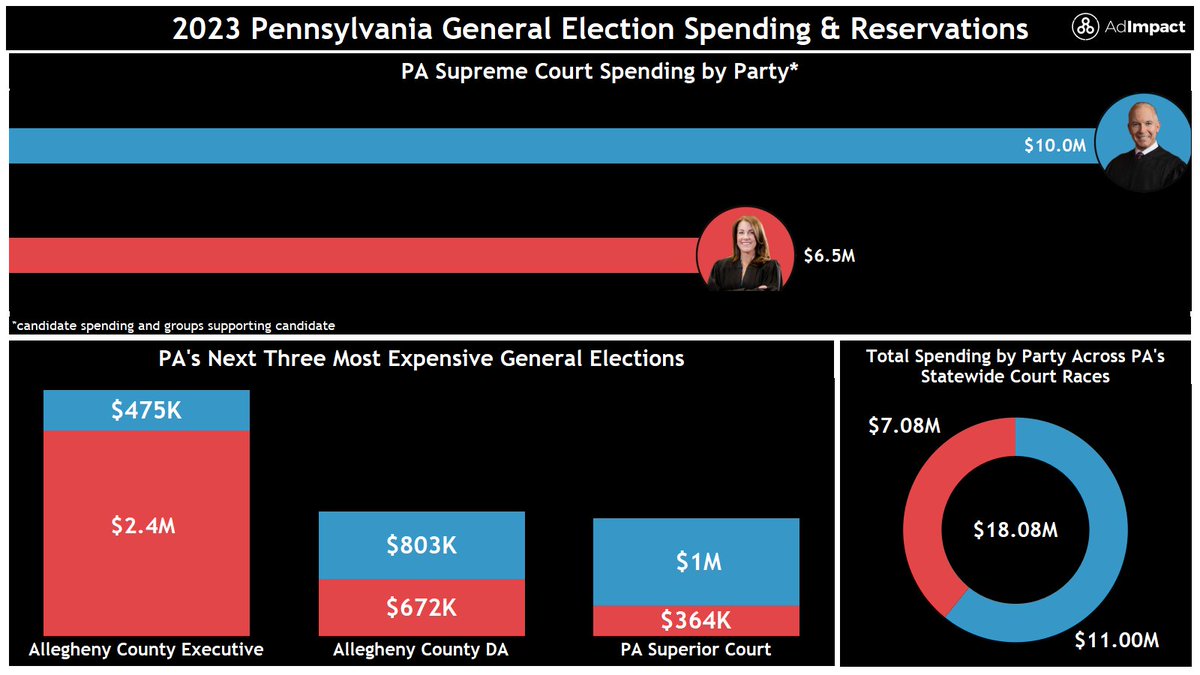 Carluccio, who serves as the president judge of the Montgomery County Court of Common Pleas, has raised $1.728 million and received $4.43 million in value of in-kind contributions since the start of the calendar year.
McCaffery, who presently sits on the Pennsylvania Superior Court, has raised $3.05 million and received $392,000 in-kind.
Total that all up and 10 days prior to the election, candidates had raised nearly $4.75 million while spending $4.16 million.
Carluccio had $385,336.08 in her coffers for the stretch run, while McCaffery was sitting on $351,918.42.
Here is the breakdown from the Cycle 5 – or 2nd Friday before the election – campaign finance filings.
Carluccio
Raised: $482,641
Spent: $742,603.92
Cash on Hand: $385,336.08
Political Action Committees
Energy Voices PAC ($70,000)
Pennsylvania Opportunity PAC ($65,000)
Lancaster For Qualified Judges ($27,600)
Friends of Joe Pittman ($25,000)
PA Future Fund ($10,000)
Transportation Construct ($10,000)
Certified Public Accountants ($10,000)
Education Opportunity ($10,000)
In-Kind Contributions
Commonwealth Leaders Fund

Media Buy – Oct. 10 ($1,000,000)
Media Buy – Oct. 20 ($18,640)
Media Buy – Oct. 23 ($1,000,000)
Digital Ads ($150,000)
Texting ($50,000)
Production ($6,446.70)
Donations
Richard Wesselt, Founder, Wesselt Initiative, ($15,000)
Brian Rich, President, Reading Anthracite Co. ($11,500)
Vahan Guereghian, CEO, CSMI Consulting ($10,000)
Greg Bentley, Executive, Bentley Systems ($10,000)
Expenditures
Axiom, Broadcast & OTT Placement – Oct. 18 ($160,485)
Axiom, Broadcast & OTT Placement – Oct. 13 ($150,370)
Axiom, TV Ad Buy – Sep. 28 ($123,239)
Axiom, Cable & OTT Placement – Sep. 20 ($71,989)
Axiom, TV Ad Buy – Oct. 6 ($71,989)
Prosper Group, Online Advertising ($59,550)
Madison McQueen, Media Production ($25,499)
Debts: $25,000 – Carolyn Carluccio
---
McCaffery
Raised: $1,106.023.41
Spent: $2,000,097.07
COH: $351,918.42
Political Action Committees
Committee for a Better Tomorrow ($300,000)
AFSCME People Payables ($100,000)
UA Union Plumbers & Pipefitters Vote! PAC ($100,000)
National Democratic Redistricting Committee ($50,000)
PSEA PACE ($45,000)
PA Judicial PAC ($38,000)
DRIVE Committee ($25,000)
Sheet Metal Workers Union Local 19 PAC ($20,000)
Roofers Local 30 Political Action & Educational Fund ($20,000)
In-Kind Contributions
The Pennsylvania Democratic Party

Mailing – Oct 18 ($208,553.60)
Mailer – Oct 23 ($92,054.40)
Donations
Ross Feller Casey LLP ($10,000)
Elaine Lindy ($10,000)
Constance H. Williams ($10,000)
Mark Heising, Founder, Medley Partners ($10,000)
David W. Haas, Duane Morris, Attorney ($10,000)
Vincent Tutino, President, Lindy Paving Inc. ($10,000)
Expenditures
LC Media LLC, Media – Oct. 18 ($660,000)
LC Media LLC, Media – Oct. 13 ($555,000)
LC Media LLC, Media – Oct. 6 ($220,000)
LC Media LLC, Media – Oct. 11 (140,000)
LC Media LLC, Media – Oct. 2 ($115,750)
The Pennsylvania Democratic Party ($109,500)
Debts – $0