Restore Our Future:

Americans for Prosperity:
http://youtu.be/z7VLSnI2DAw
The pro-Romney super PAC Restore Our Future and the Tea Party-affiliated Americans for Prosperity both launched television ads in Pennsylvania Wednesday. The highly similar spots hammer President Obama over his recent comment that, "the private sector is doing fine." They'll spend a combined $1.8 million in PA.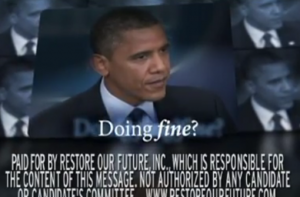 Restore Our Future is spending $888,000 in the state from June 20 to 30. Its ad reports a series of dismal statistics like "23 million Americans can't find full-time jobs," "30 percent have been out of work for over a year," and "under Obama, nearly 800,000 more women are unemployed." The bleak picture contrasts sharply with a clip of Obama saying that "the private sector is doing fine."
The group made headlines recently when it accepted a $10 million contribution from casino-owning billionaire Sheldon Adelson.
Meanwhile, Americans for Prosperity will spend $929,000 in PA for the exact same time period, June 20 through 30.
"When President Obama said the private sector was doing 'just fine,' he surpassed his own bad record of being out of touch with the economic challenges Americans are facing. Our new ad demonstrates just how far removed the president is from the real economy," said AFP President Tim Phillips. "The fact is the private sector is severely hampered by the specter of rising taxes and new regulations."