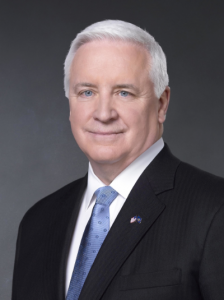 Good news for Gov. Tom Corbett.
The state unemployment rate dropped for the fourth consecutive month, the Pennsylvania Department of Labor & Industry announced today.
May's 0.1% improvement to 7.5% puts Pennsylvania below the national average for the first time since July 2012.
"Pennsylvania's unemployment rate hasn't been this low since 2009 and has declined for four consecutive months," Julia Hearthway, Secretary of the Department of Labor & Industry said. "Pennsylvania's rate is now below the U.S. rate, which increased one-tenth of a percentage point in May to 7.6 percent."
It's a reprieve for the Governor. Critics have lambasted him for presiding over above-average unemployment despite running on a jobs platform.
The numbers also show that the work force increased by 24,000 in April — the largest jump since August 1983. On the year, the unemployment rate is down 0.4%.
The down side? Pa. actually lost more jobs than any other state in May: 9,200.