A new ABC27/Susquehanna Polling and Research poll shows incumbent Rep. Lloyd Smucker (R-Lancaster) holding a four point lead over Democratic challenger Jess King in the race for Pennsylvania's 11th Congressional District. The poll has Smucker leading King 50-46, while 3% remain undecided and 1% said another candidate.
ABC27 describes this as a "slim lead" for Smucker in the GOP friendly district. 311 likely voters in the district were interviewed for this poll, 74% from Lancaster County and 26% from York County from Oct. 21-22. The margin of error is +/- 5.6% at "the 95% confidence level."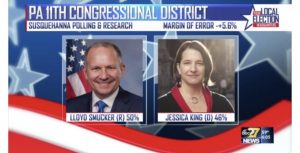 The newly drawn 11th district went to President Donald Trump by over 25 points in the 2016 election, but the polling indicates he is not as popular there as he was just two years ago. Those polled were split down the middle, 49-49 on his job performance with 2% answering "neutral" or "no opinion." A majority of likely voters polled prefer their Congressional representative to "stand up to Trump and be a check and balance on his policies," at 53%, while 43% want their member of Congress to "work closely with Trump to advance his agenda," and 2% staying neutral or no opinion.   
Those polled were also divided on the current direction of the country. 49% believe the country has gotten on the wrong track, while 47% believe the country is heading in the right direction and 4% stating they are undecided/no opinion.
A majority of those polled in this red district are registered Republicans, although when likely voters were asked about how they see themselves while considering political issues a significant number see themselves as "Independent/Unaffiliated." 54% polled said they were registered Republicans, 38% were registered Democrats, and 8% registered Independent. When asked how they see themselves while considering political issues, 40% identify as Republican, 31% as Independent/Unaffiliated, 27% as Democrats and 2% not responding to that question.   
53% polled were female and 47% were male.
ABC27/Susquehanna Polling and Research released another poll a day prior showing another close contest in Pennsylvania's 10th Congressional District with incumbent Rep. Scott Perry (R-York) with a 3 point lead over Democrat George Scott.
FiveThirtyEight currently has this race listed as Likely Republican.
The full data for the ABC27/Susquehanna Polling and Research can be found here.