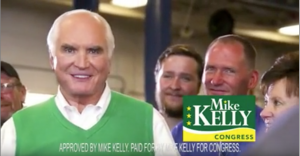 Back in business.
Rep. Mike Kelly (R-Butler) releases his second ad of the general election cycle. This one boasts about his support for the GOP tax reform bill.
"As the owner of my family's business, I've worked hard to create hundreds of jobs in our community and when I saw the government wasn't helping us, but hurting us, I took the fight to Washington," Kelly says in the 30 second ad. "I worked to reform our broken tax code for the first time in 30 years and get the government of our backs."
Kelly believes the GOP tax reform bill is already benefiting the workers of his district.
"And now we're starting to see it pay off," Kelly says in the ad. "Workers with bigger paychecks and businesses hiring again because western Pennsylvania is back in business."
PoliticsPA is seeking comment from Kelly's Democratic opponent, Ron DiNicola's campaign.
Kelly is the first GOP candidate for Congress in Pennsylvania to release a television ad solely promoting the tax reform.
"This bill has brought more take-home pay for every single hardworking American so that he and she can keep more of their hard-earned money to spend as they choose instead of shipping it off to the federal government," said Mike Barley, campaign spokesman. "It also means that American companies will no longer have to pay the highest taxes in the industrialized world. The proof that the tax cuts are working is evident in the economic numbers being reported each day… the market is up, unemployment is down, and consumer confidence is through the roof."
Kelly's first ad, discussed protecting and preserving Medicare and Social Security. The same week he released his first ad, Rep. Keith Rothfus (R-Allegheny) and Sen. Bob Casey (D-Pennsylvania) put forth television advertisements stressing the importance of protecting senior citizens.
If you see this ad or any political ad, I invite you to flag it for me at John@PoliticsPA.com.