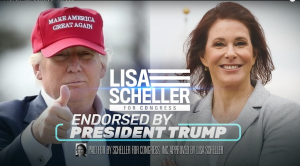 Touting Trump's support. 
Lisa Scheller, a former Lehigh County Commissioner and businesswoman, released a 30 television second spot that shares the same exact message in her previous ad, "Proven Tax Cutter," but adds that she has been endorsed by President Donald Trump in the race for the 7th Congressional District over Dean Browning, also a former Lehigh County Commissioner and businessman. 
"On the Lehigh County Commission, Dean Browning sided with liberal Democrats and cast the deciding vote for a $16 million tax hike," a voiceover reads at the beginning of the ad. "Dean Browning has been too liberal for too long." 
"That's why President Trump is endorsing conservative business owner, Lisa Scheller," the voiceover continues to say in the spot. "Scheller passed permanent tax cuts for Lehigh County, saving taxpayers over $40 million."
The ad ends with a side by side again of Scheller and Trump, saying she approves the message. 
Browning vehemently denies the tax claim, although the Allentown Morning Call reports that there is some gray area to the tax vote dispute: "Browning never voted for the tax increase itself, but he voted against two proposals at that October 2010 meeting that resulted in the eventual tax hike." 
Browning also launched a television ad a few weeks ago making the case that he was the pro-Trump candidate in the race and attempted to paint Scheller as "liberal." 
Trump announced his endorsement of Scheller on Friday night in a series of tweets of Pennsylvania congressional candidates.
Browning responded to the endorsement by tweeting at Trump asking if Scheller supported Trump's bid in 2016. Browning cited a previous donation that Scheller made to Ohio Gov. John Kasich's campaign in 2016.
Both candidates have made an effort in the race to distinguish themselves as the "pro-Trump candidate," through an ad campaign that has ramped up in recent weeks. 
The GOP race is an effort to unseat Rep. Susan Wild (D-Lehigh), who was first elected to the district in 2018 after defeating Republican Marty Nothstein by 10 points. In 2016, the district boundaries narrowly went for Sec. Hillary Clinton over Trump.