GOP challenger Jim Bognet, a former Trump administration appointee, is on TV with two new ads that attempt to paint Rep. Matt Cartwright (D-Lackawanna) as out of touch with the district, while claiming to be the pro-Social Security candidate in the race. 
The 30 second spot, "Stay True," takes place in a bar that features a few patrons reading off a laundry list of attacks on Cartwright after a clip of one of his recent ads is played. 
"What a phony," a bar-goer says at the conclusion of a short Cartwright clip. "Did you know that Matt Cartwright has 4 houses, a jet, and a yacht?" 
"He's living large, voting to raise our taxes, even on Social Security," another person says. "He votes with Pelosi and those nutjobs on amnesty for illegals and he wants to defund the police," another person continues. "I voted for him once, but never again."
The Cartwright campaign fired back. 
"Jim Bognet continues to peddle a lie that's been debunked twice by independent fact checkers and a law enforcement leader from his hometown, while papering over his long history of jet-setting coast to coast trying to elect GOP candidates who wanted to cut Americans' hard-earned Social Security and Medicare benefits," said Cartwright campaign spokesman Matt Slavoski.
"There's only one candidate in the PA-08 race who you can trust to improve public safety and protect Social Security and Medicare, and that's Matt Cartwright. He has been right here in Northeastern Pennsylvania where he raised his family, and he'll keep looking out for yours."
As referenced in the Cartwright campaign's response, a Philadelphia Inquirer analysis with PolitiFact described Bognet's claim of Cartwright wanting to defund the police as "false." 
For over a decade, Bognet has worked on GOP campaigns across the county, including former Rep. Lou Barletta (R-Luzerne), Sen. John McCain and Gov. Mitt Romney's presidential campaigns, and more.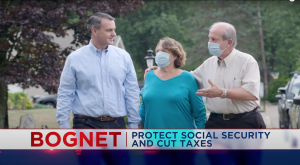 The second 15 second Bognet spot titled, "You Earned It" makes no mention of Cartwright, and touts the GOP challenger's support for protecting Social Security. 
"I'm Jim Bonget. I'll protect Social Security. And I'll end the federal tax on social security benefits. You earned it. You should keep it," he says to camera. 
Cartwright's campaign dismissed the message and reiterated Bognet's work for other GOP candidates. 
"Jim Bognet spent the past two decades working for Republican candidates who wanted to cut Social Security. And now he wants PA-08 voters to believe that's not what he'd do in Congress?" said Slavoski. 
Cartwright has also been on the attack over healthcare and entitlement funding in TV ads over the past few months. Cartwright is also a co-sponsor for H.R. 860, Social Security 2100 Act, that would cut taxes for some Social Security recipients.
Bognet and Cartwright both have jousted over Social Security and Medicare in multiple ads this cycle. 
Three national ratings outlets have the race leaning in Cartwright's favor. Inside Elections and Larry Sabato's Crystal Ball lists the race in PA8 as Likely Democratic, while the Cook Political Report has it as Leans Democratic.