PA8: Cartwright Slams Bognet, Touts Economic and Healthcare Record
Rep. Matt Cartwright (D-Lackawanna) is back on television with two new ads. One spot take direct aim at GOP challenger Jim Bognet's previous attack ads, while the other touts his record on a number of key issues in the 8th Congressional District. 
The 30 second ad, "Why Lie?" references a Politifact analysis that rejects a previous Bognet ad that claimed the Lackawanna County Democrat wants to "defund the police," while then going on the offensive on the GOP challenger over health care and Social Security.
"The newspapers caught Jim Bognet lying, again," a voiceover says in the beginning of the ad. "Why is he lying?" 
"Because Jim Bognet would repeal the only law protecting pre-existing medical conditions and Jim Bognet has spent years talking about cutting social security," the voiceover continues.
The ad then shows a clip of Bognet referring to entitlement reforms as the "big enchilada" while he worked for Mitt Romney's campaign. This is not the first time that the Cartwright campaign has used this clip in ads. 
The Bognet campaign fired back. 
"Matt Cartwright supports defunding the police, packing the Supreme Court, ending fracking and raising taxes," said Bognet Campaign Spokesman Ian Prior. "Meanwhile, moderate Democrats in the House have repeatedly sent letters to Nancy Pelosi asking for immediate Covid relief – Cartwright refuses to join them to do what is right for Northeast Pennsylvania."
"The fact is, Cartwright is trying to distract from these radical positions by lying about Jim Bognet's repeated statements that he supports full coverage of people with pre-existing conditions and will always protect Social Security," Prior continued.
The charges from the Bognet campaign echo other Republicans up and down the ballot in the state, however Cartwright has not endorsed defunding the police or "ending" fracking.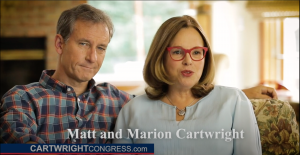 The second 30 second Cartwright ad titled, "Earned My Vote" doesn't mention Bognet by name, but instead includes his wife, Marion, touting the work he's done in elected office and raising their family in Northeast PA.
"Matt and I were so lucky to raise our family here and he wants our boys to do the same," Marion Cartwright says at the beginning of the ad. 
"That's why Matt works so hard to get COVID relief for families, protect their healthcare, lower their drug costs, and bring jobs back from China," she continues. "Matt's working hard for the next generation."
"I'm Matt Cartwright and I definitely approve this message," Rep. Cartwright says
"Me, too," Marion Cartwright says to finish the ad. 
While this ad promotes raising a family in Northeast Pa., Bognet has also run ads touting his roots in the district by growing up in Hazleton. 
Both candidates have traded jabs over healthcare, drug costs, and China over the campaign. 
Three national ratings outlets have the race leaning in Cartwright's favor. Inside Elections and Larry Sabato's Crystal Ball lists the race in PA8 as Likely Democratic, while the Cook Political Report has it as Leans Democratic.