Pa. Republican Chairman Rob Gleason said last week that focus on the issue of Voter ID helped the party cut President Obama's margin of victory.
He was responding to a question by PCN's Francine Schertzer about the law, which is on trial in Commonwealth Court this week.
"Do you think all the attention drawn to Voter ID affected last year's elections?" Schertzer asked.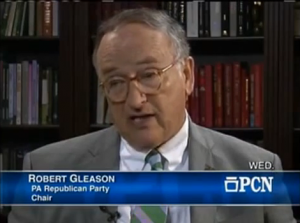 "Yeah, I think a little bit. We probably had a better election. Think about this, we cut Obama by 5%, which was big. A lot of people lost sight of that. He won, he beat McCain by 10%, he only beat Romney by 5%. I think that probably Voter ID had helped a bit in that," Gleason said.
The law was not in effect for the 2012 election because it had been suspended by a state judge.
Pa. Democrats rescued the segment from obscurity when they clipped the footage in the video above. It proceeded down the well-beaten path of Pa. Dems press release to the liberal website Think Progress and finally arrived at MSNBC's Rachel Maddow Show.
The party billed it as an admission that Voter ID is designed to give Republicans a partisan advantage. They cast Gleason's comment as a sequel to Majority Leader Mike Turzai's 2012 remark that Voter ID would, "allow Governor Romney to win the state of Pennsylvania."
The Voter ID requirement, which passed along party lines in 2012, would prevent in-person voting fraud at polling places. The problem? There is no documented case of the type of fraud the law would prevent having occurred even a single time in Pa. in the past decade, if ever.
With no evidence, Republicans believe that Democrats, primarily in Philadelphia, are somehow executing a massive cover-up of in-person fraud, and that the law will reign in unreported corruption.
PAGOP spokeswoman Valerie Caras said Gleason was talking about the deterrent effect of the issue. As in, the focus on Voter ID let potential fraudsters know they were being watched.
"Contrary to the distortions Democrats have been and are continuing to push, the simple fact is that Photo ID laws were not in effect in the 2012 election but the debate in the state legislature, news coverage and public information campaign could have an impact on voter the same as other issues do," she said.
Just how Voter ID affected voter turnout in Pa. is debatable. The confusion may have kept Democrats from coming out to vote, as Dem party leaders assert. But the party also used the issue to energize some of its key demographic groups, particularly African Americans.
First Lady Michelle Obama cut a radio ad about Voter ID that aired in the Philadelphia market.
Here is the Maddow segment: