HARRISBURG- At the Pennsylvania Republican Party's first meeting in the pivotal 2020 election year, GOP state committee came together to endorse candidates for Attorney General, Auditor General, and Treasurer, while also touting President Donald Trump's record and the positive impact they believe he will bring by being at the top of the ballot in November. 
Of the three statewide offices they were selecting to endorse, only the Auditor General's race was contested with Dauphin County Controller Tim DeFoor, former Lancaster County Commissioner Dennis Stuckey, and state Rep. Cris Dush (R-Jefferson) all seeking their party's nod. 
DeFoor earned the party's endorsement after he received 199 votes. Stuckey finished in second place with 96 votes and Dush in third place with 11 votes. 16 people chose to abstain from the vote.
After receiving the endorsement, DeFoor said he was overcome with a ton of emotions and thanked a number of people who have helped him along during the process and promised that he'd make the state party proud during the campaign and beyond. 
"You will be proud of me in the campaign trail and once I'm elected," DeFoor said. "Because coming in second is not an option."
"You will be proud of me in the office of Auditor General," DeFoor continued. 
During his brief address to the state party after receiving the state party endorsement, he also thanked Stuckey and lauded the former Lancaster County Commissioner as a "true gentleman" and said that he "looks forward to sitting" with him to discuss his path to victory. DeFoor added that he said he couldn't win the race without Stuckey. 
Stuckey told PoliticsPA in the summer while he was mulling a bid for the office that he would not run if he didn't receive the party endorsement. 
In an interview with PoliticsPA on Saturday after the endorsement, Stuckey said that he was happy for DeFoor and said that in the next few days he would make a final decision on whether to stay in the race or not, although he said he feels an "obligation to stick to that commitment" of bailing out of the race without receiving the endorsement. 
On the other hand, Dush appeared more likely to stay in the race. In an interview with PoliticsPA after the endorsement, the Jefferson County Republican said he hadn't made up his mind yet whether he would drop out of the race or not. 
Dush said he was hoping that the state party wouldn't endorse a candidate in the race, arguing that all three candidates seeking the party's endorsement are "good, solid men." He said he was going to talk to DeFoor and some others before making a final decision. 
If he stays in the race, he believes it can be a positive primary. 
"I believe that the two of us could do it as gentlemen," Dush said, if they both seek the party's nomination. "We can put a positive Republican message out there." 
Prior to the Auditor General endorsement vote, the decision to endorse a candidate or not in this race was not universally supported by the state committee members. During the voice vote, Pennsylvania Republican Party Chairman Lawrence Tabas decided that it was "too close to call" and elected to conduct a standing vote. 182 people voted in favor to endorse a candidate, which surpassed the 161 person threshold needed to make a decision on the matter. 
Tabas mentioned prior to the voice votes that the endorsement process is something that the state party will look at moving forward, but in fairness to the candidates present that they would adhere to the current rules. 
"In the fairness to the candidates who worked really hard up to this date, I'll delay this to afterwards," Tabas said, about discussing the state party's rules on endorsing candidates. "It is my intention to open up and initiate a discussion after this with all of you about a review of the endorsement process." 
"Some possible recommendations of things that we can do forward, but for the time being, we will be governed by the existing rules," the chairman added. 
The Democratic Party will endorse a candidate for the Auditor General race at their upcoming state committee meeting next weekend. 
The endorsements for Attorney General and Treasurer on Saturday were much more straightforward. 
Former Allegheny County Councilwoman Heather Heidelbaugh received the state party endorsement for Attorney General by a voice vote. 
During her brief address after receiving the endorsement, she talked about her families centuries long roots in the state and promised to fight hard in the upcoming race and wanted everyone in the room to share one specific message as well. 
"Thank you for your support, the faith you've placed in me, and your willingness to work tirelessly to defeat those who will not stand up for the rule of law," Heidelbaugh said. 
Heidelbaugh, the lone Republican candidate seeking the party's nomination for Attorney General, would likely face Attorney General Josh Shapiro (D) in November if she secures the victory in April's primary.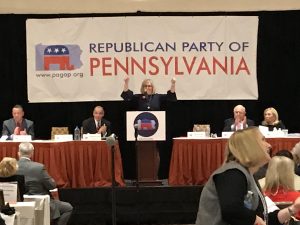 She asked state committee members in attendance to tell voters that she could one term Shapiro. 
"When you hear, 'he is unbeatable,' I want you all to say this," Heidelbaugh said. "I met her, she can beat him." 
The two individuals who offered the formal nomination for Heidelbaugh at the meeting delivered rather direct attacks at Shapiro. 
Allegheny County Republican Party Chairman Sam DeMarco touted Heidelbaugh's background, calling her a "pioneer in the law" and said that she is a stalwart of the Republican Party. 
"Heather is running for Attorney General today for one reason," DeMarco said. "She wants to be Attorney General." 
"The incumbent Democrat is running for Attorney General because he wants to be Governor or Senator or who knows what else," Demarco added.
Earlier this month, Shapiro formally announced his intentions to seek a second term, although rumors have swirled over the past year about him being a potential candidate for Governor in 2022 when Gov. Tom Wolf's second term is completed. Shapiro has not confirmed any interest in the seat yet. 
Montgomery County Republican Party Chairwoman Liz Preate Havey delivered a one sentence statement in seconding Heidelbaugh's endorsement. 
"There's no county wants to beat Josh Shapiro more than Montgomery County," she said, about the Montgomery County Democrat. 
No other candidate for Attorney General was nominated at the meeting. 
Stacy Garrity, an Iraq War veteran and businesswoman who previously sought the Republican Party nomination for the 12th Congressional District after Rep. Tom Marino (R-Lycoming) retired, also received the state party endorsement for Treasurer by a voice vote. 
During her speech after receiving the endorsement, she talked about the state's role in the birth of the nation and called it an honor to have the chance to represent the party in the statewide office. 
"The greatest honor of my life was serving our nation," Garrity said. "I'm so honored today to receive your endorsement and the honor to have the opportunity to serve our party and our state." 
Those who nominated her pointed to her service in Iraq and in the business world as proof she could serve the state in this role and described her as someone who could appeal to a "broad base of voters" and described her as a "no apology conservative." 
Garrity and those who nominated her did not deliver any direct attacks at the Democratic incumbent, Treasurer Joe Torsella (D) by name, as others did with Shapiro. 
Garrity was the lone Republican candidate seeking the Treasurer nomination. 
Prior to the endorsements, Tabas delivered a 10 minute address aimed at rallying committee members on supporting Republicans up and down the ballot in 2020 and expressed optimism due to Trump being on the ballot in November.
Since Trump was elected and became the first Republican to carry the state of Pennsylvania since 1988, Democrats in Pennsylvania have made gains in the state House, Senate and Congress after redistricting, plus Gov. Tom Wolf and Sen. Bob Casey coasted to double digit reelection victories. Tabas shrugged off the losses in 2018 due to Trump not being on the ballot and believes they will regain seats in the upcoming election.
"People say, well look what happened to you in 2018, look at those losses" Tabas says of the Pennsylvania Republican Party. "First of all, the president wasn't on the ticket in 2018, that's a critical factor and we have our strongest asset on the ticket this year."
In continuing his speech in support of Trump's reelection effort, he thanked the President for holding a rally in the state in December, and described the president as a "rock star." 
"We had a visit from our rock star," Tabas said, referencing Trump's recent rally in Hershey. 
He recalled a conversation he had with son years ago after President Barack Obama defeated Sen. John McCain and said that his son told him that the Republican Party needed a "rock star" and believes they have one in Trump now and promised that the president will be back in the state "many, many times this year." 
Echoing Trump, the PAGOP Chairman also criticized the media, accusing them of being "against us, 24/7" and said that they only provide negative coverage to Trump and Republicans. 
While touching on Pennsylvania specific races, Tabas said that the party has plenty of great congressional candidates and said to loud applause that the party would unseat Reps. Matt Cartwright (D-Lackawanna), Conor Lamb (D-Allegheny), and Susan Wild (D-Lehigh). 
All three have been targeted by the National Republican Campaign Committee as their top targets in the state of Pennsylvania. 
Cartwright, who represents a district that Trump won by nearly 10 points in 2016, defeated Republican John Chrin by over 9 points in 2018. Lamb bested Rep. Keith Rothfus (R-Allegheny) by just over 12.5 points in 2018 in a district that narrowly supported Trump over Clinton in 2016. In 2018, Wild defeated Republican Marty Nothstein by 10 points for the Lehigh Valley district that narrowly supported Clinton in 2016. 
Pennsylvania State House Speaker Mike Turzai (R-Allegheny), who announced this week that he will not be seeking reelection in 2020, reflected on his tenure leading the House Republican caucus during a 10 minute speech that pushed his support for various conservative issues and referred to Pennsylvania as the "firewall in the Northeast." He ended his speech mentioning his support for Rob Mercuri, a Republican who was in attendance at the meeting, who is seeking his party's nomination for the 28th House District that Turzai currently represents.
Various party officials thanked Turzai during the meeting, including state Rep. Greg Rothman (R-Cumberland) who opened up for Turzai at the meeting and said that the Allegheny County Republican has left his mark on the history of the state. 
"Even if he never serves another day in public office, Michael Coyne Turzai will go down as one of the most successful politicians and political leaders in the history of this glorious commonwealth," Rothman said. 
The state Senate report was provided by state Sen. Mike Regan (R-York), who emphasized the importance of keeping the chamber red and helping the reelection efforts of state Sens. John DiSanto (R-Dauphin), Tom Killion (R-Delaware), Dan Laughlin (R-Erie), and Scott Martin (R-Lancaster). He specifically called Erie County, where Laughlin represents, as "ground zero." 
He also said the two seats they are hoping to flip in western PA are held by state Sens. Jim Brewster (D-Allegheny) and Pam Iovino (D-Allegheny). 
Prior to today's meeting, the state party held a press conference on Friday evening aimed at criticizing impeachment which included speeches from Tabas and Reps. Fred Keller (R-Snyder), Dan Meuser (R-Luzerne), Scott Perry (R-York), and GT Thompson (R-Centre). Their Lincoln Day Dinner on Friday evening was headlined by Sean Parnell, a U.S. Army combat veteran and conservative author, who is seeking the Republican nomination for the 17th Congressional District. That dinner was not open to the press. 
Tabas announced that the next state committee meeting will be May 30 at the Harrisburg Hilton.
This story was updated to correct the amount of votes Tim DeFoor received.