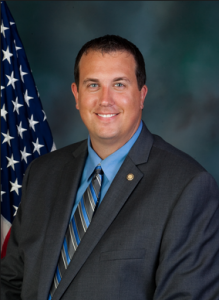 Local government control could take a hit this week over paid sick leave.
The Leave Policy Act, HB 18017, sponsored by Rep. Seth Grove (R-York) would uniform paid sick leave across Pennsylvania.
Under the Leave Policy Act, political subdivisions in the Commonwealth would no longer be able to set up mandates for paid sick leave for employees or classes of employees within their districts. This law would extend to public institutions and private enterprises. All sick leave policies from municipalities and school districts would fall under federal and state law.
Despite dwindling time before the recess, Grove's office remains optimistic that the bill will move before the holiday break. It is on Tuesday's calendar for a vote on second consideration.
If enacted, the law would take effect immediately, but no political subdivision that established its policy before 2014 would need to change.
The Labor and Industry Committee voted to move the bill to the House last month. The committee's fifteen Republicans overwhelmed nine Democratic representatives. Since that time, the Leave Policy Act has stalled.
"[Leave Policy Act] really takes away the ability of local governments to make decisions that are best for them," said Marianne Bellesorte, spokeswoman for PathwaysPA.
PathwaysPA is the leading organization of Coalition for Healthy Families and Workplaces, a group of organizations working to ensure paid sick leave for families in the state, particularly the Philadelphia area.
The bill also faces stiff disapproval from labor unions, and even non-Pennsylvania workers are sharing their opinions on the matter. At the PA Society dinner, some servers at the Waldorf Astoria Hotel wore stickers opposing the bill.
Alex Edward from Berlin Rosen, a public affairs firm that often represents labor organizations, called the bill "dangerous and undemocratic." He also condemned the bill for its ties to the conservative National Restaurant Association and the American Legislative Exchange Council (ALEC). Rep. Grove is an ALEC Communications and Technology Task Force Member.
Grove introduced the bill after Philadelphia tried to require businesses with more than five employees to provide fifty-six hours of paid off time each year. Grove alleges that this "blanket policy" does not differentiate across enterprises and would harm small businesses. An "uneven playing field" would be difficult for businesses to comply with if they operate in multiple municipalities.
If the bill becomes a law, Pennsylvania would be the tenth state with such an act.