By Keegan Gibson, Managing Editor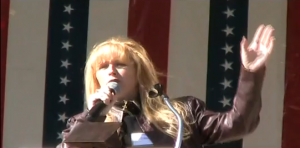 Laureen Cummings, head of the Scranton Tea Party, has declared her intention to challenge U.S. Senator Bob Casey in 2012, and she sounds an awful lot like Sarah Palin and Michele Bachmann.
Cummings, of Old Forge, is a relative newcomer to politics. She ran for Republican State Committee in 2010, shortly after she helped to found the Scranton Tea Party.
She's a registered nurse and a small business owner, Lorimar Home Care & Staffing Services.
PoliticsPA found the video below from a Tea Party rally during April 2010. The speech is a run down of common Tea Party mantras.
"There are death panels, as Sarah Palin says," asserts Cummings of the health care law.
"One thing President Obama didn't count on: we are not Europeans. We are proud, American-loving citizens," she says later.
Eric Boehm of the PA Independent has the scoop.
During a guest appearance Saturday on The David Madeira Show on WTRW-FM, Cummings said she would seek the Republican nomination for Senate in 2012.
"I think we need more patriots (in Congress)," said Cummings. "Next election, we need more patriots to get out there."
Cummings said her experience as a nurse gives her a better perspective on the national health care debate than Casey, whom she said has not read the entire health reform law.
"I've read the health care bill, and I know he hasn't," said Cummings. "And I've read the cap and trade bill, and I know he hasn't because I've approached him about both of them."