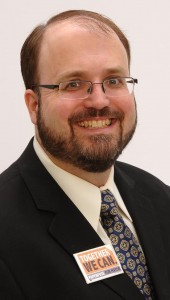 Challenger Eric Papenfuse would defeat incumbent Harrisburg Mayor Linda Thompson in a head to head contest, according to a poll Papenfuse's campaign released Monday.
The survey, conducted by DC-based polling firm Momentum Analysis, shows the bookstore owner ahead of the first-term Mayor 50% to 30%. The poll of 277 likely Democratic voters was conducted via live telephone interviews from April 1-4. The margin of error is plus or minus 6%.
But the polling memo conspicuously avoids mention of City Controller Dan Miller, who is widely considered to be the frontrunner in the race or at least the lead challenger. Nor does it mention longshot newcomer Lewis Butts, who works at his family's furniture store and is the 4th Democratic primary contender.
"Our campaign is releasing polling data about Papenfuse versus Thompson to the public in order to correct widespread misconceptions about the nature of the upcoming Mayoral election and the opinions of Democratic Primary voters," Papenfuse's campaign said in its release.
Pollster Margie Omero notes that Thompson's favorability numbers are in difficult territory 67% of respondents had a negative opinion of Thompson versus just 27% favorable. The mayor's first term has been a succession of PR gaffes and budget headaches. A massive 88% of white voters view her unfavorably, as do 51% of African American voters.
Papenfuse's favorability is net positive, 37% to 10% among the 47% of respondents who knew enough to form an opinion of him. He owns and operates the Midtown Scholar bookstore, which is also a frequent venue for community events.
PoliticsPA makes a practice when reporting internal campaign polls of warning readers to take the results with a grain of salt. This polling memo (PDF) is a perfect example why. It was crafted for public release with a specific purpose, according to the accompanying press release: to, "directly counter political pundits' unfounded predictions, as recently reported in the media."
Papenfuse has been accused of playing the role of spoiler, syphoning anti-Thompson votes away from Miller. He's run for city council and county commissioner in recent years.
Not so, says the Papenfus campaign release. Even with everyone in the race, Thompson still loses.
"In fact, competitors are not splitting the anti-incumbent vote in a way that would enable Thompson to win reelection. Both Eric Papenfuse and his chief opponent are beating Thompson, who comes in third."
But the memo does not include numbers to back up that assertion. PoliticsPA is seeking them.