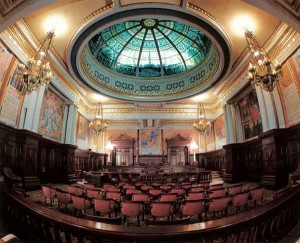 The results are in and the battle is set.
This November, there will be three open seats on the Pennsylvania Supreme Court. The Court currently has a 3-2 Republican majority along with two vacant seats (Justice Correale Stevens' term also expires this year).
Judges serve ten-year terms. As a result, these contests may shape the Keystone State for the next decade and beyond.
The Republicans saw all three of their endorsed candidates prevail last night.
"Congratulations to Judge Anne Covey, Judge Mike George, and Judge Judy Olson on earning the Republican nominations for the state Supreme Court," PA GOP Chair Rob Gleason said. "At a time when the ideological makeup of the state Supreme Court hangs in the balance, Republican voters have elected three strong candidates with a deep commitment to judicial reform."
The GOP also saw Commonwealth Court candidate Paul Lalley and Superior Court hopeful Emil Giordano breeze through without a challenger.
Meanwhile, the Democratic Party had more of a mixed record.
The endorsement threshold for the Dems was higher (two-thirds instead of a majority) so only Kevin Dougherty and David Wecht were formally supported. Both men emerged victorious, though, as did Christine Donohue.
"The Democratic Party has chosen its candidates," said Pennsylvania Democratic Party Chair Jim Burn. "Our members are ready to support our candidates in full force this November. The diversity of our Party makes it an inevitability that we will have contested primaries. That is what makes our party so special and so strong."
"The real battle is always in November. With three Supreme Court Judicial seats at stake in the fall, this year will be crucial in the makeup of the Court," Burn continued. "With candidates such as David Wecht, Christine Donohue and Kevin Dougherty, we know we can mobilize our base and appeal to independents in the fall to win the November elections."
Burn didn't mention the other state judicial races, which came out to a split decision for Democrats.
The party didn't make a choice in the Superior Court race where Alice Dubow was victorious but Commonwealth Court endorsee Todd Eagen lost in an upset to Michael Wojcik.