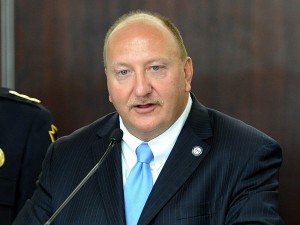 Word on the street is that there's a double agent in Allentown.
The Morning Call reported on Monday that Mike Fleck, the Lehigh Valley political operative who was handling mayor Ed Pawlowski's campaign for U.S. Senate, secretly recorded conversations for the ongoing FBI investigation of Allentown City Hall.
Fleck left Allentown after the FBI's July 2nd raid, which sought records relating to 28 people or companies and five city hall offices, including the office of the Mayor. The FBI is investigating the link between Pawlowski's campaign contributions and Allentown city contractors.
Fleck dissolved his political consulting business, H Street Strategies, the same day as the Allentown raid. H Street Strategies handled campaign strategy for more than 20 clients, including Pawlowski, who suspended his campaign for Pat Toomey's Senate seat on July 6th.
Sources told the Morning Call that Fleck cooperated with the FBI investigation and covertly recorded conversations with his clients, including Pawlowski.
Legal experts interviewed by Morning Call reporters say that in cases involving campaign contributions and government contracts, investigators must show that defendants planned to circumvent the normal government bidding process to direct work to a particular company. This means that prosecutors must find an insider who will testify about the plans, or get a cooperating witness who is willing to record other parties talking about them.
The experts said that witnesses such as Fleck can benefit by cooperating with the investigation. Informants who agree to record conversations usually receive reduced sentences or immunity from prosecution in return for their services.