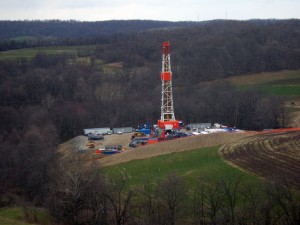 The Governors of Pennsylvania, West Virginia and Ohio received letters from the Pennsylvania Budget & Policy Center today, urging them to increase their shale taxes.
Right now, West Virginia has a flat tax of 5% on natural gas extraction, and the PBPC encourages other states to use this as a minimum tax level, as opposed to a ceiling.
"A comparable tax rate will allow our states to invest in a stronger economic future," said Sharon Ward, Director of the Pennsylvania Budget and Policy Center. "It will create consistency for the industry, ensure that our communities are benefiting, and allow our states to address the impacts of drilling."
PBPC was joined by State Rep. Gene DiGirolamo (R-Bucks) in calling for Pennsylvania to institute an extraction tax.
"A severance tax would help us to repair the damage from years of budget cuts and help us better meet the needs of people with disabilities, public schools, and our environment," said DiGirolamo, who spoke on a press call hosted by the policy groups today.
While Pennsylvania has slightly higher corporate income taxes, but many of the Democratic gubernatorial candidates are calling for an increased extraction tax.
PBPC is a left-leaning think tank, and unsurprisingly its right-leaning counterpart, the Commonwealth Foundation disagrees with its findings.
"Tax advocates ignore the big picture. Drilling companies pay either the highest Corporate Net Income Tax in the world or the Personal Income Tax, plus the Capital Stock and Franchise Tax, leasing fees, and royalties on top of the impact fee. Altogether it costs about $1 million more to drill in Pennsylvania than Texas, in fact, many southern states don't even have a corporate income tax," Elizabeth Stelle, Senior Policy Analyst at the Commonwealth Foundation told PoliticsPA.
"Contrary to claims by tax advocates, the impact fee is discouraging development in Pennsylvania. Talisman and Anadarko plugged dozens of wells to avoid paying an impact fee. These missed opportunities translate into fewer royalties for local landowners and less work for the many small businesses, like trucking companies, that benefit from well construction.  It's clear, the natural gas industry is paying its fair share."