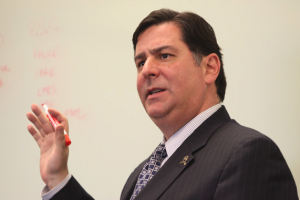 Pittsburgh Mayor Bill Peduto just got his first challenger in the Democratic primary.
According to Chris Potter of the Post-Gazette, Reverend John Welch will announce his candidacy this Saturday.
"I don't want to run a conventional campaign," he said. "I want to shake the rafters and the foundations of this city."
Welch also asserted that this campaign against Peduto isn't personal.
"I still look at him as a friend, although he may not look at me that way after this," Welch explained. "I was a supporter of his. But it's not about Bill, it's about the office. He just happens to be sitting in it."
Potter points out that it is still unclear whether Councilwoman Darlene Harris will run this year, as she is considered a more formidable opponent for the incumbent.
The primary elections will be held on May 16th this year.