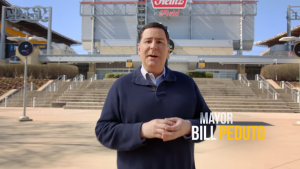 Pittsburgh Mayor Bill Peduto is launching a new ad pushing against President Donald Trump and touting his accomplishments as Mayor.  
"Mr. President, you say you'll make America great again.  Well Pittsburgh has defined greatness," Peduto says in the ad.  
"Mr. President, if you keep trying to cut healthcare and after-school programs, even a Patriots fan like you should know that won't play in Pittsburgh," Peduto says at the end of the ad.  
"When there's uncertainty in the national landscape or outright hostility coming from Washington, people often turn to our cities.  Mayor Peduto has shown that he's been a leader in protecting people in Pittsburgh and will continue to do so in the new term," Peduto spokesman Matt Merriman-Preston said in an email.  
The ad will begin running on network TV tomorrow, and is being described by sources as "aggressive."
You can view the entire ad below: