Penn State President Spanier Faces Conservative Criticism
By Christina Gongaware, Contributing Writer
More than 2 weeks after Gov. Tom Corbett released his budget that resulted in chagrin and anger from the heads of state-affiliated universities, Penn State President Graham Spanier is facing accusations from Corbett, Lt. Gov. Jim Crawley and the Commonwealth Foundation that he's crying wolf and unwilling to cut out superfluity in his own budget.
PoliticsPA reported on the effect that the Corbett budget would have on both basic and higher education.
Spanier has asserted that tuition increases will be unavoidable given the 50 percent cut in state funds. He also did not rule out the possibility of some branches being forced to close.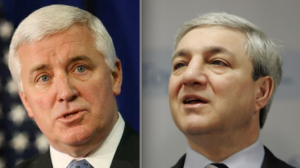 The Commonwealth Foundation, however, a conservative think tank whose mission is "to demonstrate the societal benefits of public policies based on limited constitutional government, personal and economic freedom and individual responsibility," is now on a full-scale assault against Spanier and Penn State.
"Crying pauper, raising prices and asking for more subsidies at a time when you aren't delivering the desired product and your customers are cutting back isn't just bad form, it's bad business.  So you know what that means:  Not only is it time our taxpayer-supported universities stopped creating their own version of March Madness, but CF will be there to help them do it," wrote President and CEO Matthew J. Brouillette.
The foundation plans on releasing a number of blog posts and commentaries throughout the week that Brouillette says will expose "the ugly truths P$U is working so hard to keep outside the ivory tower and your minds."
The group has already presented some hard-hitting statistics to refute some of Spanier's claims. For instance, they provide a report from the Goldwater Institute that states that Penn State's administrative staff per 100 students grew by 70.8 percent between 1993 and 2007.
They also assert that while the average tuition for public, four-year colleges is $7,605, Penn State sits atop some of the most expensive state schools at $15,250.
Pennsylvania Lt. Gov. Jim Crawley has expressed similar feelings towards Spanier and his colleagues. On Tuesday, he said that state-related institutions "have a place in my heart. But the simple fact is that private professors — at private institutions — are making on average $10,000 less a year than those at the four state-related universities."
Saylor stated that while the average full-time professor in Pennsylvania makes $90,378 a year, those at state-related universities receive an average of $97,118, and in the State System of Higher Education, which includes 14 schools, the average balloons to $100,029.
He also echoed statements from Corbett, who has said that the cuts represent only a four percent total cut in Penn State's budget.
Spanier has said that due to an inability to redirect funds to cover the decrease in state funds, the budget would result in a nearly 20 percent cut in general-education and instructional budgets.
Crawley's Communications Director, Chad Saylor pointed out that tuition rates at Penn State have more than doubled over the last ten years, even with $3.5 billion in state support.
He also said that with a one-year salary freeze, the school could save $25 million to $30 million dollars.
Gov. Corbett also expressed his discontent with Spanier, stating, "I was sorely disappointed that the first reaction from Penn State was to say that this is a catastrophic budget. This is going to cause them to raise tuition and maybe close campuses. Rather than say, 'Let's talk a little and see what we can do. Let's do what every other business, what every other family is doing. Let's tighten our belts and see where we can save money,'" he said.