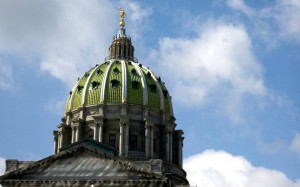 A group of legislators in Harrisburg are reaching out to millennials.
State Reps. Kevin Boyle (D-Philadelphia) and Nick Miccarelli (R-Delaware) have formed the Pennsylvania Future Caucus. The members of the State House are working with the Millennial Action Project (MAP) for guidance on getting the agenda of a new generation to be heard.
"Many of our millennial cohorts have expressed their dissatisfaction with the perceived inability of government to address the problems facing Pennsylvania," said Miccarelli. "What is often mistaken as political apathy among millennials is really an expression of frustration at the lack of progress and results. The Future Caucus will help to open a dialogue amongst younger lawmakers that share a desire for progress rather than platitudes."
"There is a certain lack of trust in government among the younger generations as evidenced by lower voter turnout and involvement," added Boyle. "By uniting our younger legislators towards a common goal, we hope to set a precedent for how government should work and begin to rebuild that trust. The Future Caucus will seek to create a more transparent and inclusive political discourse that energizes younger citizens to get involved."
Their efforts have already gained the bipartisan support of Pennsylvania's two U.S. Senators, Bob Casey and Pat Toomey.
"The Pennsylvania Future Caucus is an exciting group that represents our Commonwealth's next generation of leaders. Efforts like the Future Caucus help lawmakers with different views come together in a bipartisan way around common sense proposals that create jobs and strengthen our state," said Sen. Casey. "I'm excited about the work that the Future Caucus will do in Harrisburg and wish them well as they begin this endeavor."
"Pennsylvania is home to approximately 3 million millennials. With this in mind, I am pleased to see a younger generation of Pennsylvanians running for office and organizing a Future Caucus designed to focus on the challenges millennials face," Sen. Toomey stated. "I am hopeful that the ideas this Caucus will support will be innovative and help promote Pennsylvania as an ideal place to live, work, and raise a family. I am eager to see the progress this group of young legislators are able to make."
The Pennsylvania Future Caucus will be modeled on the Congressional Future Caucus.