The second day of June hearings for the January 6 Select Committee on Monday had a decidedly Pennsylvania flavor to it.
Not only did the Committee hear from former Philadelphia City Commissioner Al Schmidt about the 2020 presidential election in the City of Brotherly Love, it also played video testimony from former U.S. Attorney General William Barr in which he revealed that that voter fraud claims being pushed by state Sen. Doug Mastriano were based on a lack of understanding of Pennsylvania's election system.
Barr's testimony also included descriptions of his conversations with former President Donald Trump about claims of election fraud in Philly.
"That was absolutely rubbish," Barr said in his testimony. "The turnout in Philadelphia was inline with the state's turnout, and in fact it was not as impressive as many suburban counties. There was nothing strange about the Philadelphia turnout."
There were approximately 749,000 votes cast in Philadelphia – 81 percent of which were cast for President Joe Biden – with a 66 percent turnout. Just under half of that total came in via mail. Across the Commonwealth, overall turnout came in at 71 percent.
Schmidt, a Republican, testified on the stand that "not only was there no evidence of 8,000 dead voters in Pennsylvania, There was not evidence of eight. "We took seriously every case that was referred to us, no matter how fantastical, no matter how absurd and took every one of those seriously."
"I've been a Republican for much longer than Donald Trump," he said later on CNN. "A Republican as an elected official in Philadelphia for 10 years." Election fraud was "one of the key platforms that I ran on."
He received threats in the days and weeks following the election that became increasingly more specific and graphic to him and his family, including the name of family members, their ages, pictures of his home, and "more details than you can imagine."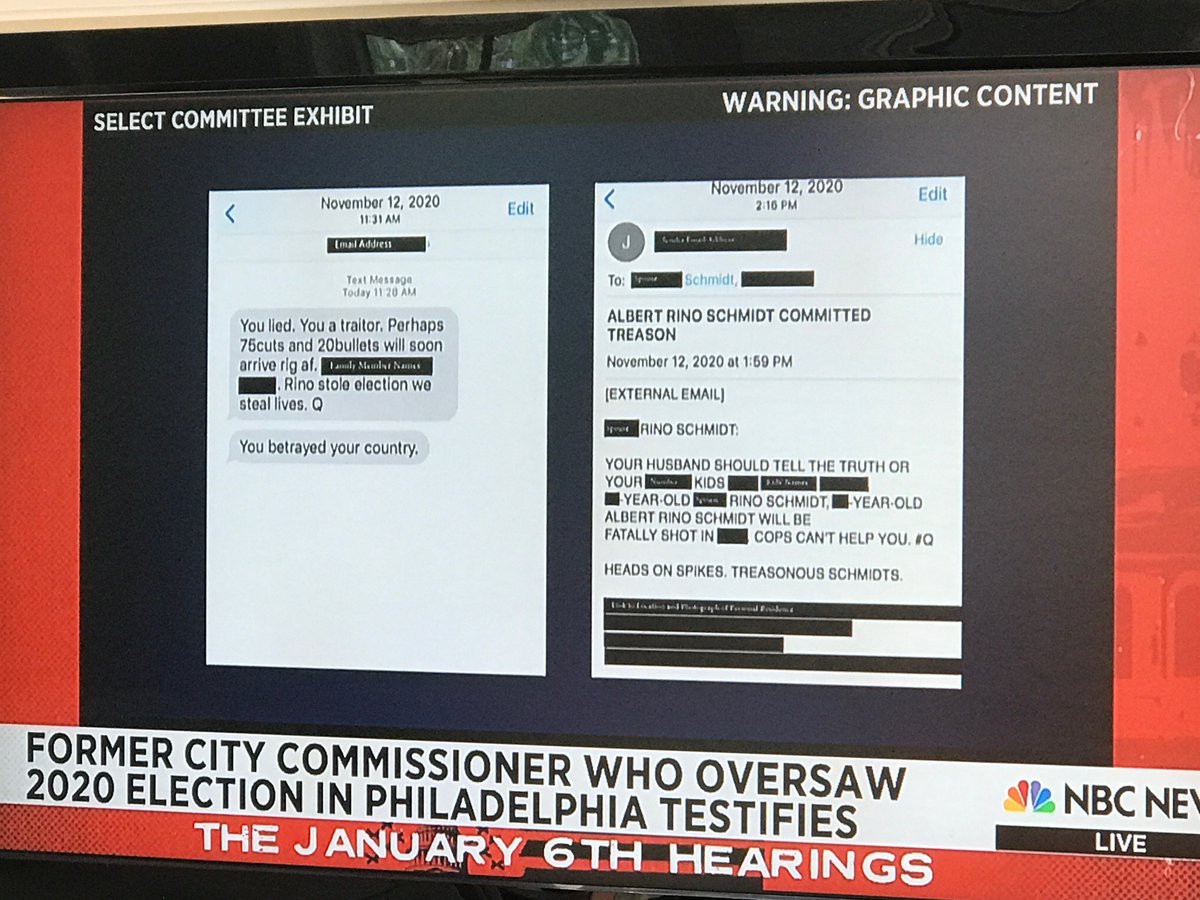 Barr's testimony revealed that former U.S. Attorney for Eastern Pennsylvania Bill McSwain told him that voter fraud claims by Mastriano were based on a lack of understanding.
"He took the number of applications for the Republican primary and compared that to the number of absentee votes in the general election," said Barr about Mastriano's November 2020 hearing in Gettysburg. "But once you actually go and look and compare apples to apples, there's no discrepancy. I think at some point I covered that with the president."
McSwain, a GOP candidate for Pennsylvania governor this spring, had said that Barr had prohibited him from looking into election fraud claims in his quest to secure an endorsement from Trump.
"As part of my responsibilities as U.S. Attorney, I wanted to be transparent with the public and, of course, investigate fully any allegations," McSwain wrote last June. "Attorney General Barr, however, instructed me not to make any public statements or put out any press releases regarding possible election irregularities. I was also given a directive to pass along serious allegations to the State Attorney General for investigation — the same State Attorney General who had already declared that you could not win."
Trump issued a statement in April urging Republicans not to vote for McSwain.
Mastriano did obtain the endorsement from Trump and won the gubernatorial nomination.
In video testimony from former Acting Deputy Attorney General Richard Donoghue, Pennsylvania capped its triple play for the day. In early December 2020, it was alleged that a truck driver drove a trailer full of ballots from New York to Lancaster in the weeks before the election. The driver said the truck disappeared after he parked it at the regional post office.
Donoghue said he spoke directly with Trump about the story and told him it was without merit.
"We looked at that allegation," Donoghue told Trump. "We looked at both ends, the people who load the truck and the people who unload the truck. And again that allegation was not supported by the evidence."
Donoghue said Trump responded "okay" and then moved onto other fraud claims. Donoghue mentioned the Lancaster episode as an illustration of how even when Trump accepted that there was no evidence for a particular fraud claim, he would simply move onto another.