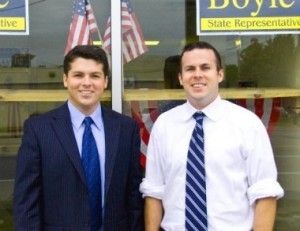 The White House's St. Patrick's Day Reception featured a special treat for two Pennsylvania brothers.
Newly elected Congressman Brendan Boyle and State Rep. Kevin Boyle received a shoutout from President Barack Obama in his remarks to Irish Prime Minister Enda Kenny on Tuesday. Obama distinctly chose Brendan Boyle as the one individual of the "brood of Irish-American members of Congress" to recognize.
In his remarks, Pres. Obama told the story of the Boyle brothers' father, who was an Irish immigrant.
"When Brendan Boyle ran for Congress last year, his campaign was followed closely by folks back in Ireland — not so much because of him, although he's an impressive young man, but because of his dad," Obama said in his remarks. "Frank Boyle grew up in Donegal. He moved to America as a young man, married an Irish lass, had two sons. He supported his family by working as a janitor for the Philadelphia public transit authority."
This was not the first time Boyles' father's story has been publicized. Brendan Boyle is particularly proud of his father's background, and he frequently featured his father in ads and stump speeches during his campaign for the 13th district seat.
Both Brendan and Kevin Boyle attended the White House's St. Patrick's Day Reception on Tuesday.
"The Boyle boys are all here today; they've made people across two nations very proud," the President stated, encouraging those gathered at the reception to give them a round of applause.
Update: There is a video link to the President's remarks below: