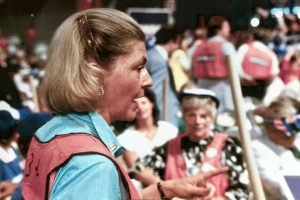 Former Pennsylvania Democratic Party Vice Chair Penny Gerber passed away on March 15th, and a memorial service will be held April 6th.
According to the Inquirer Gerber's support was considered by many to be crucial to winning the endorsement of the state Democratic party.  
From the Inquirer:
Mrs. Gerber and her husband, A. Richard Gerber, were close with prominent Pennsylvania political families such as the Caseys and Lambs.
She worked on Ed Rendell's campaigns for district attorney, mayor, and governor, and was close with other Philadelphia elected officials such as former Mayor Michael Nutter and U.S. Rep. Bob Brady.
"You name a statewide Democrat or any prominent local Democrat, she played a role in their lives in one way or another, either as friend or consigliere, or someone who paved the way," said her son Michael, a former state representative. "She was like everyone's second mom."
The memorial service will be held at St. Thomas' Church, 610 Church Rd., Flourtown.  Gerber's family requested donations be made to Abrahamsohn Christmas and Easter Committee, Penn Medicine Development, 3535 Market St., Suite 750, Philadelphia, Pa. 19104-3309