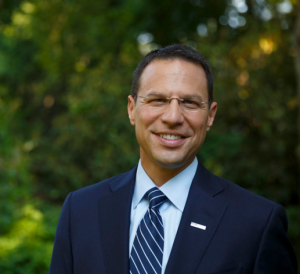 John Rafferty did not run unopposed in the GOP primary for Attorney General.
Prosecutor Joe Peters challenged Rafferty and garnered 36% of the vote in the primary. Peters, however, never closed ranks and backed Rafferty.
In fact, Peters is now formally endorsing Democratic nominee Josh Shapiro.
"It was an honor running for Attorney General and earning 464,491 votes in the primary from fellow Republicans who wanted a fearless, independent Attorney General who wasn't afraid of taking on entrenched interests in Harrisburg and across our Commonwealth. I care deeply about this office, and after the primary, I took time to study both candidates. I believe Josh Shapiro will surround himself with the best advice from police and prosecutors, and place the safety of all Pennsylvanians as his top priority," Peters stated. "I've seen it all – from being a beat cop in Scranton to serving as Pennsylvania's top drug prosecutor and convicting the mob in Philadelphia – and I know our next Attorney General must be innovative, possess broad legal knowledge and have executive experience, which is why I'm voting for Josh Shapiro."
"Josh has made tough, bipartisan calls as Chairman of Montgomery County and the Pennsylvania Commission on Crime and Delinquency, and he's done it ethically and by putting pragmatic results ahead of party," Peters continued. "Josh thinks for himself, and has taken common-sense steps to address tough issues from drug use to our broken immigration system. I have served Presidents and Pennsylvania Attorneys General from both parties, and believe the Attorney General's office shouldn't be a partisan place. This endorsement isn't to make a negative comment on Josh's opponent, rather it's about Josh's leadership, integrity and how I agree with the substantive agenda Josh has laid out, from fighting terrorism to supporting our police and taking on the heroin epidemic."
"Joe and I shared a stage many times this spring and I got to know and truly respect him for his independent mind and career of service protecting the people of our Commonwealth and our country," Shapiro responded. "It's an honor to have his support, especially at a time when our next Attorney General needs to be like Joe – independent and fearless in protecting the people of Pennsylvania. We need more independent thinkers like Joe Peters in politics today and I'm humbled Joe crossed party lines to support my campaign to put the safety of Pennsylvanians first."
PoliticsPA reached out to the Rafferty campaign for comment.

"Joe Peters was former Attorney General Kathleen Kane's spokesman so it's not surprising that he is backing Josh Shapiro to continue the failed Kane legacy," Campaign Manager Mike Barley said. "John Rafferty has put together a broad coalition, made up of Republicans, Democrats, law enforcement, business and labor, who support his candidacy for attorney general. We are confident John Rafferty will be successful in November."