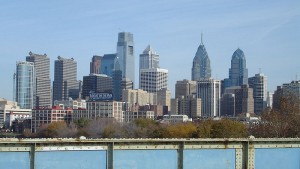 The Democratic National Committee announced on Saturday that Philadelphia is one of six cities to formally submit a bid to host their 2016 presidential nominating convention.
"As one of the world's most popular tourist destinations, we already have first-class hotels and public transportation offerings," Philadelphia City Council President Darrell Clarke wrote to the DNC. "A trip back to the Cradle of Liberty by the Democratic National Committee is well overdue."
Back in April, the DNC invited fifteen cities to send in a proposal and six responded.
"Hosting a party convention is a true honor and we're thrilled with all the fantastic options that we have going into the next cycle," DNC Chair Debbie Wasserman Schultz said in a statement. "We look forward to evaluating these bids and selecting a city to host this special gathering of Democrats."
Pittsburgh was one of the original fifteen sites that were invited into the process and initially intended on bidding. The Steel City dropped out in part to help Philly's chances of winning the event.
"By partnering with the city of Philadelphia, we have the opportunity to showcase Pennsylvania in the national media spotlight, which benefits our community as a whole," Allegheny County Chief Executive Rich Fitzgerald said.
History
Philadelphia has a long history of political conventions, going back to the first ever Republican National Convention which was held in the city's Musical Fund Hall in 1856. The Grand Old Party has held a total of six conventions in the city.
The Democrats have also a rich history in Philadelphia. In 1936, President Franklin D. Roosevelt was re-nominated and memorably stated to a packed Franklin Field "This generation of Americans has a rendezvous with destiny."
Harry S. Truman also accepted the party's nomination in 1948 and delivered his famous "Do-Nothing Congress" speech. 1948 was likely the highpoint of Philadelphia's political influence as both parties held their conventions there that year.
In 2000 the parties jockeyed for the spot, with the Republicans ultimately winning and the Democrats choosing to withdraw in order to avoid the 1948 scenario. The 2000 RNC that nominated George W. Bush is the last convention Philadelphia has hosted.
Competitors
Judging by its competitors, Philadelphia may very well be one of the favorites to land the convention.
Cleveland and Columbus apparently couldn't settle their differences and both submitted bids which could end up hurting both cities chances. Also Birmingham is not exactly a Democratic stronghold and would make little sense for the DNC.
One might expect Philly's old familiar rival New York would be their greatest threat, especially with its connection to a certain someone. Instead of proposing Manhattan and Madison Square Garden, however, NYC Mayor Bill De Blasio submitted a bid for his native Brooklyn and the newly opened Barclay's Center. This may ultimately harm the Big Apple's chances.
Philadelphia's biggest rival will likely be Phoneix. The Democratic party has sought in recent years to target their conventions to new swing states like Colorado (Denver in 2008) and North Carolina (Charlotte in 2012). Arizona, a sunbelt state with a large Hispanic population, certainly fits that mold.
On the other hand, Arizona has not exactly been the Democrats' (or President Obama's) favorite place. Additionally, Arizona is a "right to work" state and the DNC already had a bitter fight with labor over the 2012 convention that they probably don't want to repeat. You can be sure Rep. Bob Brady will point this out if the Democrats should forget.
Finally, with Philadelphia being situated in the Northeast, its an easier location for the media to travel to than Phoenix at a time when the cost of covering conventions has caused less attention and resources to be devoted to them. Not to mention the factor of extreme late summer heat in the Southwest.
The decision is expected to be made late this year or in early 2015.