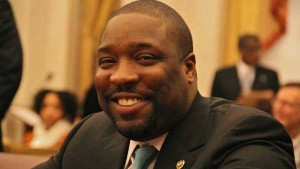 Yesterday, the Kenyatta Johnson for City Council campaign announced they received the endorsement of the Philadelphia Federation of Teachers in the Democratic Primary race for the Second Council District.
"I was born and raised in the Second District and now my wife and I are raising our son in the same community, so when it comes to improving public schools, it's priority one for me," said Johnson. "I'm very proud to have received the endorsement of the PFT. I understand the importance of great public schools and I'm going to continue fighting to make sure every child in the city has access to the best possible public schools."
Representing more than 16,000 dedicated women and men working in Philadelphia public schools, the PFt consists of teachers, librarians, school nurses, counselors, psychologists and social workers, secretaries, paraprofessionals, classroom assistants, non-teaching assistants, supportive services assistants, Head Start/Comprehensive Early Learning Center and Bright Futures teachers and staff, food service managers, and professional and technical employees.
"Councilman Johnson has shown us time and again that he is willing to make tough choices to fund Philadelphia's schools," said PFT President Jerry Jordan. "Ultimately, funding education is not, in fact, a choice, but a moral imperative. His actions over his tenure in council have demonstrated his commitment to our young people."
Councilman Johnson is running against real estate developer Ori Feibush in the Democratic primary.