Philadelphia Shipyard versus Fayette County Prison
By Laura Bonawits, Contributing Writer
In: A $42 million government investment to keep the South Philly shipyard operating, reported to preserve up to 1,000 jobs.
Out: A $200 million prison construction project in Fayette County, reported to generate approximately 650 jobs in an area where work is sparse.
Construction plans for the German Township prison, which would make room for 2,000 inmates, was scrapped "in the best interest of the Commonwealth," according to a letter signed by acting secretary of the Department of General Services Sheri L. Phillips (the notice was posted on the Department of General Services' website but later taken down). Now, area residents and government officials alike are objecting to Corbett's call.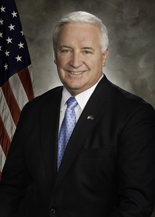 In the eastern part of the state, Gov. Corbett is receiving praise. The governor made a deal with Aker, the European company that owns the Philadelphia shipyard. The Commonwealth announced plans Thursday to invest state funds into the "Shipyard to Nowhere," saving 300 existing jobs and making way for 400 jobs in the future, according to a Newsworks report. Gov. Corbett will expend $42 million in capital funds to acquire all assets of the Aker Philadelphia Shipyard Inc. (APSI)—as long as APSI puts out $90 million of its own money, $210 million in total, to complete building two oil tankers by the end of 2013. Philadelphia will defer collecting $8 million in taxes. If Aker fails to put up the $90 million, the deal will be called off, Fox Philly reported.
Despite more than 2,000 Pennsylvania inmates housed outside state borders and a repeated cry for jobs, a state Department of Corrections spokeswoman said the southwestern prison wouldn't be built unless it was "absolutely needed," as reported in the Tribune-Review. Instead, alternative plans are in the works for non-violent crime offenders, like making use of treatment programs, halfway houses and boot camp. To accommodate the overflowing number of inmates, the Corbett administration said it will expand existing prisons and build three new ones, according to a report in the AP. The projects include carrying on construction of a new prison in Centre County and expanding of SCI-Graterford in Montgomery County because those plans are further in development than that in Fayette County, The Observer Reporter published.
With high stakes, the Philadelphia shipyard could shut down as early as July without the help of state funding. And Gov. Corbett is picking up with the shipyard where former governors Tom Ridge and Ed Rendell left off; Kvaerner, which later merged with Aker, received $182 million of state money to reopen the shipyard back in '97.
"I have had the opportunity to review the merits of this transaction, and it has become clear that the Philadelphia Shipyard is the best commercial shipbuilding facility in the nation," Gov. Corbett said in a press release by the Philadelphia Shipyard Development Corp. "The Yard is uniquely positioned to successfully compete for future orders for commercial ships that must be built in the United States, and this partnership allows the Shipyard to retain its extraordinary workforce and remain in operation until that time."
Officials in the Philadelphia area are commending the decision, citing the shipyard as an economical driver. Philadelphia mayor Michael Nutter said the shipyard is "vital to the city's economy" and provided citizens with high-paying jobs.  Additionally, President of the Delaware County Chamber of Commerce Mike Brady said the governor's decision to invest in the shipyard is "terrific news for our Commonwealth and our county" and he "made the right decision for southeastern Pennsylvania."
In Fayette County, however, government officials are whistling a different tune. State Rep. Bill DeWeese, D-Greene/Fayette/Washington, wasn't shy to express his outrage, and demanded a further explanation for the project's abrupt cancellation in a press release issued on his website. "This is a huge and sudden reversal of fortune," Rep. DeWeese said. "If Republican Tom Corbett thought he was playing more politics with Bill DeWeese, he was wrong. He is now playing politics with the people of the 50th District. In last year's race for governor, Fayette, Greene and Washington county residents helped put him in the governor's mansion. He needs to explain to them why he did this."
Rep. DeWeese maintains that axing the prison project comes as personal blow from Gov. Corbett. Back in 2009 when he was attorney general, Corbett charged DeWeese with theft, conspiracy and conflict of interest. DeWeese has yet to go on trail and insists he is innocent. "He and I have had some challenges, to be polite and euphemistic, relative to the past," Rep. DeWeese told WITF.  "But that's in another arena. He's the chief executive of 12.6 million people. My 60,000 folks elected me to go to Harrisburg and serve, and this is an aggressive slap in the face."