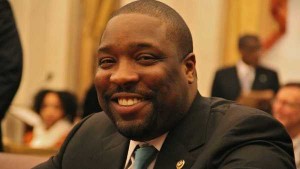 Councilman Kenyatta Johnson picked up another endorsement in his quest to retain his Philadelphia seat.
The Greater Philadelphia Chamber of Commerce announced their support today.
"My priority in city council is making sure we protect the next generation of young people in Philadelphia from gangs and gun violence," said Johnson. "Obviously a big part of that is supporting business growth for companies large and small in our city. That's because it's a lot easier to keep young men and women away from gangs and guns if we make sure they have the opportunity to get a good paying job."
"So I'm extremely honored to have received the endorsement of the Chamber of Commerce because I think it sends a signal that our efforts to foster economic and business development in the Second District have been effective," he concluded. "I look forward to continuing to work with the chamber in the future."
"[We're] recommending candidates running for City Council whom we believe will best promote growth and prosperity and be a real partner with Philadelphia's business community," explained Chamber President and CEO Rob Wonderling.
Johnson has previously won the backing of several labor unions this year including the Philadelphia Federation of Teachers, AFSCME DC 47, 32BJ SEIU, the Philadelphia AFL-CIO and the PGW Employees Union.