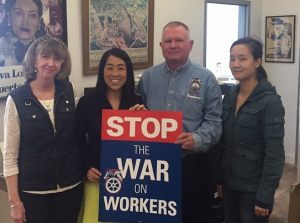 Helen Gym, Democratic candidate for Philadelphia City Council-At Large, picked up another labor endorsement.
Gym, a former elementary school teacher and education advocate, yesterday received the endorsement of the Pennsylvania Federation of the Brotherhood of Maintenance of Way Employees Division, and affiliate of the International Brotherhood of Teamsters.
She announced her run for City Council on Philadelphia on February 11 and immediately won the backing of the Philadelphia Federation of Teachers.
"Our Union does not normally endorse candidates for local office. However, Helen Gym is clearly worthy of our support," General Chairman of the Pennsylvania Federation BMWED-Teamsters stated. "Now and then a person comes along who seeks political office who is different and wants to represent the people and not some rich patron, corporation or themselves.
"Helen Gym is one of those rare exceptions in politics today and we can rest assured that her integrity, grit and compassion will be at work 24 hours a day, 7 days a week representing the working families of Philadelphia and only the working families of Philadelphia."
Gym happily responded to the statement, saying, "I'm incredibly honored to have the endorsement of an organization that values working families as much as I do, and pledge to continue fighting for schools, neighborhoods, and the values of working families throughout our great city."