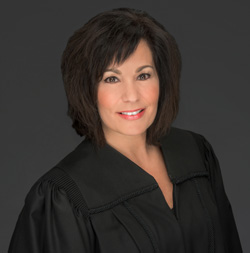 Court of Common Pleas Judge Maria McLaughlin formally announced her bid for the Superior Court of Pennsylvania this week.  She was joined at her kickoff by Lieutenant Governor Mike Stack and Auditor General Eugene DePasquale.  
"Growing up in a row home in the City, I learned early on about determination and courage. I've carried these values with me throughout my life," McLaughlin said during her announcement.  
"I am proud to support my friend Judge Maria McLaughlin for Superior Court. She has been a superior Philadelphia Common Pleas Judge who has dedicated much of her life to public service and the law as an attorney, an Assistant District Attorney and a Judge. It is fortunate for Pennsylvania that the people of Philadelphia will now be sharing her with the rest of the Commonwealth," Stack said in a statement emailed to PoliticsPA.  
"We are here to kick off Judge McLaughlin's campaign for Superior Court Judge and we will be back for her inauguration," DePasquale said at the announcement.
McLaughlin is a Judge in the Court of Common Pleas in Philadelphia.  She is also a member of the National Association of Women Judges, and a member of the Widener University School of Law Alumni board.  
McLaughlin received a "recommended" rating from the PA Bar Association.  She joins Judge Carolyn Nichols, Bill Caye, Albert J. Flora Jr., Judge Deborah A. Kunselman, Judge H. Geoffrey Moulton Jr., Judge Lillian Harris Ransom in the race for the four open seats on the Superior Court.  The State Democratic Party will meet this weekend to choose its slate of candidates for the judicial elections.