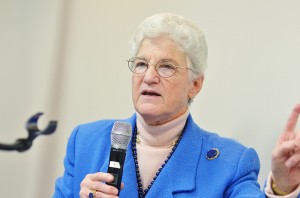 A week after a number of candidates tossed their hat into the ring for Mayor of Philadelphia, the first poll has been released.
This is an internal poll conducted by Abraham, and as always, such results should be taken with a grain of salt.
The survey was first reported by Holly Otterbein of WHYY.
Lynne Abraham leads with 31% of likely Democratic primary voters. In addition, 61% of voters have a positive recollection of her time in office as Philadelphia District Attorney.
Following behind Abraham is Darrell Clarke, the Philadelphia City Council President. 12% of likely Democratic primary voters said they would vote for Clarke. Interestingly, though, Clarke has yet to formally announce his candidacy for mayor.
Among announced candidates, State Senator Anthony Williams is in third with 9%, while Terry Gillen and Ken Trujillo tie for last (sixth) with just 2%.
The internal poll also included some other candidates who have yet to declare whether they're running. They include former State Senator Milton Street (and brother of former Philly mayor John Street) at 5%, and former Philadelphia City Solicitor Nelson Diaz with 3% of likely Democratic primary voters.
With six more months to go, unsurprisingly, 36% of those polled were undecided on who they would for vote in the Democratic primary.
The poll was conducted with 600 voters by telephone (landline and cell phone) from October 12-16, 2014. The margin of error is +/-4.0 percent.