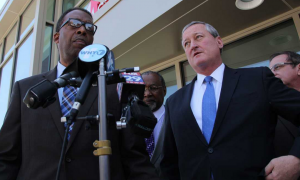 City Council President Darrell Clarke has endorsed Jim Kenney for Mayor of Philadelphia.
The move is an important, though not surprising development, given the men served on the Council together from 1999 until last February.
Since the relationship between Mayor and Council President is so vital, however, and the field of candidates so large, many assumed Clarke won't formally back anyone.
That appeared to be the case as late as last week.
On May 3rd, the two men toured North Philadelphia together. The symbolic gesture would have been a fitting endorsement in everything but name. It's likely that the joint walk was as far as Clarke was willing to take it.
Then, of course, the Inquirer released their poll. Two hours later, the Kenney campaign announced Clarke would appear with the candidate for a "special announcement" today.
Now, the man who was presumed to be the front-runner is standing on a 27-point lead. All of a sudden, it makes sense for the two men to fully embrace.
"I want to thank the Councilman for coming out again to North Philadelphia with me," said Clarke. "Today, I want to make clear that I'll be supporting Jim for mayor. I've worked with him for more than 16 years, and I know he's the right choice for Philadelphia. He will have the effective relationship with Council that we need."
Clarke noted that he wanted to "replicate" the famously close relationship Ed Rendell and John Street had when they were Mayor and Council President respectively. Mayor Nutter and Councilman Clarke frequently fought each other over the last few years.
Additionally, City Controller Alan Butkovitz is also throwing his support behind Kenney.
"In Council and during this campaign, Jim showed he has the passion and the know-how to move every neighborhood in Philadelphia forward," said Butkovitz. "I'm proud to endorse him for mayor and I look forward to working with him to create an even more fiscally responsible city government."
"I am humbled to have the support of both the Council President and Controller Butkovitz," Kenney responded. "Both will be essential partners in creating Philadelphia where every family has a shot at success no matter what they neighborhood they live in."