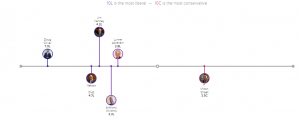 Rarely does such an important race have so few reliable ways to measure it.
So far, no independent polling has been done in the Philadelphia Mayoral contest.
One organization, however, has found a way to rate the candidates on an ideological spectrum.
A new independent website called "Crowdpac" has devised a method to rate the candidates in this, and any other, election.
Crowdpac does this through an algorithm that tracks three variables:
Money: The money raised by the candidate as well as who and where that cash comes from.
Speech: The words and phrases that the candidate uses in speeches as well as official campaign correspondence and statements. Also includes any bills or legislation the candidate has introduced.
Votes: The candidate's voting record in any elective body they may have served on.
Through this method, Crowdpac can assign each aspirant a rating ranging from 10L (most liberal) to 10C (most conservative).
Not surprisingly, in this Democratic primary six of the seven candidates receive a liberal rating. Only Milton Street, 3.5C, stands out from the pack.
Next comes the three front-runners. Lynne Abraham scores 2.8L, Anthony Williams earns a 3.3L, while Jim Kenney comes out at 4.2L.
Nelson Diaz finishes as the second most liberal person on the ballot with a 4.7L score.
Far and away the most liberal candidate is Doug Oliver with a score of 7.9L.
Crowdpac can also rate the candidate's position on important issues. In this election, they calculated the scores for Abraham, Kenney and Williams when it came to "expansion of charter schools".
Kenney received a 7.8L rating, Abraham a 1.0L and Williams a 9.1C.
These scores were determined by donations and Williams famously has received plenty of donations from pro-charter school individuals and groups.