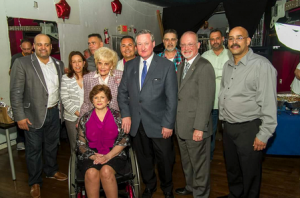 Nelson Diaz is still angry at Jim Kenney for the snagging the LUPE endorsement from him, and he's alleging a conspiracy is to blame.
To recap, Judge Diaz says the only reason he lost the endorsement was because he refused to fund the campaign of Manny Morales. Morales, a City Council candidate in the 7th district, was abandoned by the Philly Democratic Party after some of his inflammatory Facebook posts were uncovered.
The Kenney campaign denied this and claimed Diaz was just "embarrassed".
Well now, the Diaz team is back with a photo showing Kenney and Morales together last Saturday.
"A picture is worth a thousand words; this one certainly calls into question the vehement and absurd assertions Jim Kenney made yesterday that LUPE – and this endorsement – has nothing to do with Manny Morales," said Diaz campaign spokesman Barry Caro. "What's 'offensive' is Jim Kenney denying any connection exists between himself and Morales just two days after posing for photographs together. Jim Kenney is going to have to answer for his disappointing decision to ally with Morales and fund a joint campaign because Philadelphia deserves so much better from every candidate for Mayor. I'm proud to work for a someone willing to say 'no' to outrageous demands."
Kenney's spokeswoman Lauren Hitt explained the photo and criticized Judge Diaz for his own relationship with Morales.
"Once again, our campaign has never given money to LUPE nor coordinated on any campaign for Morales, and a photo doesn't change that," she responded. "To the contrary, we did a joint canvass with SEIU last weekend on the behalf of Councilwoman Quinones Sanches and Jim. Mr Diaz did endorse Morales, going so far as to call him his "running mate" before Morales became a public liability, and we appreciate their campaign reminding reporters of that fact two days in a row. Every candidate in the race has pledged to bring the city together, Jim is actually doing it with the diverse coalition behind his campaign, and people who are uncomfortable with changing the status quo are lashing out against that. This is nothing more than petty politics."
Update: The Diaz campaign is now advertising a piece of video from that event. They consider the closing exhortation by a third man to vote for "Manny and Kenney" to be damning. At no point does Kenney acknowledge Morales, despite the fact that Morales is standing right behind him while he gives his remarks.
"After watching this video, I just don't understand how Jim Kenney can keep up the absurd facade that he's not working to elect Manny Morales," said Judge Nelson Diaz. "Kenney has decided to ally with anyone he thinks can help his campaign – no matter how offensive their views. He should own up to this crystal clear reality for the sake of common decency and his own credibility. I demanded Manny Morales withdraw his candidacy, and said no when LUPE demanded six figures from me to fund a joint campaign. Jim Kenney apparently choose a different path – the latest in a series of ethical compromises from this born-again 'progressive'."