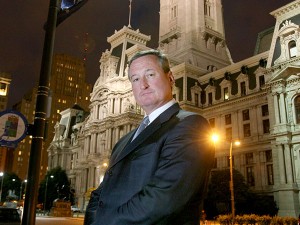 Apparently, election night was more intriguing than we thought.
On Tuesday, as expected, Jim Kenney coasted to the Democratic nomination for Mayor of Philadelphia. What we didn't know then was who the newly-minted nominee took the time to meet with that night.
Well according to Ryan Briggs of Philly.com, Kenney met with Camden County insurance executive George Norcross.
Norcross is, as Briggs puts, "regarded as the pre-eminent political power broker east of the Delaware River."
"Norcross is a regional power player obviously, especially, you know, South Jersey," political consultant Larry Ceisler* told Briggs. "We have a lot of common interests like the [Delaware River Port Authority], the port and the airport."
Suspicions about a relationship between Kenney and Norcross first arose when Holly Otterbein of Citified connected the dots on $725,000 in donations that made their way from NJ to a pro-Kenney Super PAC.
Although they apparently only spoke for a few minutes, Norcross was the first person Kenney met when he arrived at this victory party, even before family and staff.
"Well, George Norcross is not a person you keep waiting," Ceisler commented.
"Jim met with a lot of people last night and he invited them all back into the staff room because it was the only way to have a real conversation with anyone, given the crowd outside," Kenney campaign spokesperson Lauren Hitt responded.
This episode is the latest example of what some see as Kenney's split political personality.
For instance, earlier this month Philadelphia Magazine described an "Original Recipe Jim Kenney" and a "new Jim Kenney". The Old Jim was an ally of Vince Fumo and old-school power brokers. New Jim, on the other hand, was the progressive darling who fought for LGBT rights and marijuana decriminalization.
Of course, it's possible that Old Jim and New Jim are (and always have been) the same guy. Perhaps Jim Kenney thinks he needs a touch of the old and the new to succeed. Only time will tell.
*Larry Ceisler is a part-owner of PoliticsPA.