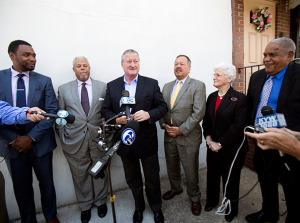 Things have been relatively quiet for Jim Kenney since winning the Democratic Party's nomination for mayor two months ago, but the presumptive next Mayor of Philadelphia picked up the support of his primary opponents Thursday, kicking his campaign back into full gear.
Former District Attorney Lynne Abraham, Judge Nelson Diaz, former State Sen. Milton Street, Doug Oliver and State Sen. Anthony Williams all turned up to lunch at Sabrina's Cafe in Philly to support Kenney.
"One of the major issues that we all agreed upon during the primary was that the next mayor needs to lessen the opportunity gap between the haves and the have nots," said Williams, who came in second to Kenney in the primary. "In order to achieve that common goal, we must elect a mayor who is committed to providing every child with a quality education. I know Jim Kenney has the experience to achieve that goal."
Kenney echoed Williams' emphasis on fixing the city's broken school system in his administration.
"I am truly honored to have the support of these experienced public servants," Kenney said. "They will be essential partners in creating thriving neighborhoods across Philadelphia and in providing high quality schools to every child."