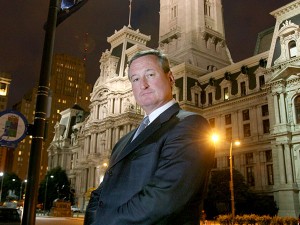 Look out Chris Christie.
Philadelphia City Councilman James "Jim" Kenney is resigning on Thursday.
Why? Almost certainly to run for Mayor.
"After twenty-three years of service to the people of Philadelphia, Councilman Jim Kenney will attend his final session of City Council on Thursday and formally submit his resignation," Kenney aide Jim Engler said. "During his tenure in city government, Kenney championed progressive causes and stood up for working families. He fought to protect the bargaining rights of police and firefighters, passed groundbreaking legislation that guaranteed broad protections for LGBTQ citizens, advocated for Philadelphia as a top destination for new immigrants to help stop our city's population loss, and never backed down from confronting Philadelphia's most pressing challenges."
On Thursday Kenney will presumably announce his candidacy.
Kenney was seen as an unlikely candidate because he didn't want to give up his seat on the Council (Philadelphia election law requires him to). The decision by Clarke to pass on the race and Ken Trujillo's surprise exit, however, convinced Kenney he had a shot.
If he does jump in, Kenney will join a field that includes State Senator Anthony Williams, former District Attorney Lynne Abraham and Judge Nelson Diaz.