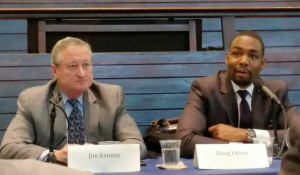 The Bicycle Coalition of Greater Philadelphia hosted the Better Mobility 2015 mayoral forum on Thursday night at the Friends Center in Center City. Seven candidates answered questions pertaining to public transportation, infrastructure, and general mobility issues facing the city of Philadelphia.
One of the main discussions was centered around adopting a Vision Zero policy. Plan Philly, a news project of WHYY and Newsworks.org, calls Vision Zero "the hottest political issue you didn't know you care about yet, which is headed straight for this year's 2015 Mayor and Council campaigns."
It is a multi-national road safety initiative that began in Sweden and aims to eliminate all fatalities and serious injuries caused by road traffic. Enacted by the Swedish parliament in 1997, the idea has gained traction recently in the United States with cities like San Francisco, New York, Boston, and Portland, Ore. adopting similar plans.
"I think Vision Zero is something to take hold of," Melissa Murray Bailey said.
Bailey was the only Republican candidate at the forum.
Former District Attorney Lynne Abraham noted that Philadelphia is home to one of the largest populations of unlicensed and uninsured drivers in the country. Former City Councilman Jim Kenney said that he would strongly enforce the speed limit during the first six to eight months of his administration in order to set a precedent.
The always outspoken Milton Street claimed that traffic safety is a state issue as well. He noted that an extensive driver's license test would ensure safer roads.
Judge Nelson Diaz spoke about a need for cameras and sound systems at crosswalks around the city which would ensure "more protection for children."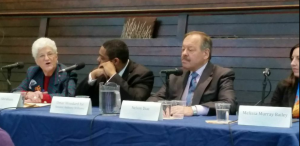 Another key topic was public transportation. Deputy editor at Philadelphia Magazine and forum moderator, Patrick Kerkstra asked the candidates to discuss how they would make SEPTA work better for the public.
"I'd like to see them expand hours later," former Nutter spokesman Doug Oliver said.
Oliver said he would like to see Philadelphia become an '18-hour city' like Houston and Austin. He believes that SEPTA's expanded hours on weekends is a step in the right direction.
Kenney wants to see SEPTA "work better with our universities" but also made a point to invest in buses that employ alternative energy like natural gas and electricity.
One candidate commiserated with all public transportations riders in the room. Bailey said she would like to see all forms of transit "run on time."
In a city which hasn't had a Republican mayor since 1952, Bailey worked hard to humanize herself and keep her answers relatable. On a few occasions, she mentioned her daughter and the problems facing young families in Philadelphia. During her introductory remarks, Bailey addressed the chuckles coming from the crowd when she asked voters to elect her in November.
Overall, Bailey seemed to hold her own and remain personable during the Democratic-heavy forum.
The closing remarks allowed the candidates to comment on the hot button issue of education.
Oliver said that eight out of 10 problems facing Philadelphia stem from education. Diaz backed a moratorium on charter schools until the school funding issues is resolved.
"I think the hallmark of the Kenney administration will be universal Pre-K," the ex-Councilman said.
And Milton Street put on his most serious face of the night to address the "cornerstone of his campaign."
"If Philadelphia is going to progress, we need to stop the violence," he declared.