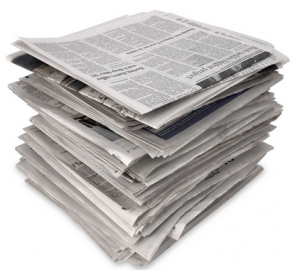 It's that time of the year again. Newspapers around the city are backing candidates. Here's PoliticsPA's running list of endorsements in the Mayoral and City Council races. We'll update as they come in.
Inquirer
Mayor: Anthony Williams
"For two men representing different facets of the city – the passionate Irish Catholic son of a firefighter from East Passyunk; the even-keeled son of an African American politician from Cobbs Creek – they are a remarkably close match. But the balance of power in City Hall isn't so close. Because the unions backing Kenney already wield too much influence, The Inquirer's choice for the Democratic nomination is ANTHONY WILLIAMS."
City Council: Helen Gym, Paul Steinke, Tom Wyatt, Isaiah Thomas, W. Wilson Goode Jr.
"Though Helen Gym is best known as a fierce advocate for Philadelphia's public schools, she has been an effective activist on a range of issues. Gym, 47, of Logan Square, cofounded the Public School Notebook and the advocacy group Parents United for Public Education. She is appropriately impatient with the status quo and, provided she maintains some daylight between herself and her union supporters, capable of being an independent Council member in the tradition of David Cohen, Michael Nutter, and John Street."
"Trained as an economist, Paul Steinke, 51, of West Philadelphia, would bring an analytical background to Council that could inform legislation on budgets, taxes, and development. Steinke has served as executive director of the University City District, finance director of the Center City District, and manager of the Reading Terminal Market, experience pertinent to a leading role in an evolving Philadelphia. An advocate of shifting the tax burden away from business and wage taxes and toward real estate, Steinke understands the effect of government policies on growth and communities."
"Tom Wyatt, 43, told the Editorial Board he wouldn't be a "representative of City Council, but a representative in City Council." A partner at Dilworth Paxson who once taught school in Mississippi, he has been a civic activist in his neighborhood, Passyunk Square. His experience as an executive at American Water Works offers needed insight on utilities in light of Council's notorious PGW flub."
"Isaiah Thomas, 30, of East Oak Lane, a charter school dean and basketball coach, returns undaunted from an unsuccessful Council run four years ago. He is a thoughtful and energetic proponent of community causes such as making neighborhoods safer and addressing abusive police tactics."
"Four-term Councilman W. Wilson Goode Jr., 49, of West Philadelphia, rises above his fellow incumbents thanks to his steady advocacy for low-income Philadelphians. Last year, voters approved a measure he initiated requiring city subcontractors to pay a living wage. This year, Council passed his bill to give tax credits to companies that create jobs in the city. He has also called for payments in lieu of taxes from large nonprofits and argued forcefully for a reconsideration of tax abatements."
"The city would be better served by the most promising newcomers in this field. The Inquirer endorses HELEN GYM, PAUL STEINKE, TOM WYATT, ISAIAH THOMAS, and W. WILSON GOODE Jr. for City Council's Democratic at-large seats."
The Inquirer also endorsed Ori Feibush in the 2nd District Council contest:
"The Second District's potential shouldn't be squandered by an attachment to old, obstructionist City Council protocols. ORI FEIBUSH offers a more hopeful vision of its neighborhoods' future."
Daily News
Mayor: Jim Kenney
"Clocking in so far at least $9 million in campaign and PAC spending, this race promises to be one of the most expensive mayoral campaigns in history. Philadelphians should commit themselves to proving that actions – voting for Jim Kenney on May 19 – speak louder than money."
City Council: GOP – Matt Wolfe, Al Taubenberger, Terry Tracy, James Williams, Dan Tinney
"The current incumbents, David Oh and Dennis O'Brien, alas haven't provided that role when it was most needed: calling for public hearings on the proposed PGW sale to UIL. They fell in with their colleagues in letting the deal die without explanation or full airing of the issues. For that reason, we recommend the five picks for the two at-large seats go to the challengers, all of whom represent fine choices. They include Matt Wolfe, an attorney who ran for a Council seat last year; former mayoral contender and Northeast Chamber of Commerce head Al Taubenberger; Terry Tracy, a retail executive who has run for city controller; James Williams, track coach at Cheyney University; Dan Tinney, 66th Ward treasurer, who has worked in finance."
Democrats – Wilson Goode Jr., Helen Gym, Paul Steinke, Tom Wyatt
Wilson Goode Jr.: Goode is the single incumbent we endorse. He has an admirable work ethic, and has been one of Council's strongest fighters for equity and diversity for 15 years – sorely needed in this city.
Helen Gym: Gym is a smart and passionate contender whose grasp of the issues goes far beyond her advocacy of public schools. A founder of a charter school as well as co-founder of the Public School Notebook, and Parents United for Public Education, she would bring an informed and independent voice to Council.
Paul Steinke: Having managed the Reading Terminal Market and served in executive posts for both Center City District and University City District, he brings a street-level experience fostering successful organizations; as an economist, he would be a strong and informed voice to the city's tax policy and job growth discussions.
Tom Wyatt: Touts his experience in the classroom and the boardroom; he's a former schoolteacher and SEC counsel at the American Water Works Company. He's also chairman of the education committee for the Passyunk Square Civic Association. That's well-rounded experience that would serve Council well.
The Daily News also endorsed Jim Kenney and Maria Quinones-Sanchez in the 2nd and 7th districts respectively.
"Feibush, who gets our endorsement, has made a compelling case for breaking the mold of politics-as-usual, and could bring a much needed business-oriented perspective to Council. We also are disturbed by Johnson's recent misstep over a "nonprofit" he created called Peace Not Guns, which claimed to have an IRS tax-exempt status when it didn't, had few financial records or a clear idea of how much money it solicited. Despite good intentions, this is a glaring mistake, especially for someone who has held elected office -including serving as state rep – for six years."
"Council members who want to carve an independent path have had a tough go, but Sanchez has shown herself very able in that regard. In a Council made up of many followers, she's a leader worth retaining."
Tribune
Mayor: Anthony Williams
City Council: The following are The Tribune's endorsement for the May 19 Pennsylvania Primary:
"In the first district: Mark Squilla
In the second district we endorse incumbent City Councilman Kenyatta Johnson over challenger Ori Feibush, a businessman. Johnson has served the district well, both as a former state representative and now as a councilman.
Feibush lacks the emotional maturity and necessary temperament to serve in public office.
In an interview with Philadelphia Magazine, Feibush called Johnson a "poverty pimp," allegedly because he thought he wasn't allowing development fast enough in Point Breeze, where Feibush began as a developer and operates several businesses. He is also quoted as saying Mayor Michael Nutter would be President Barack Obama's "Chief Retard."
Feibush admitted to the first statement, saying it was uttered out of frustration, but he said would never refer to the mayor using such a derogatory term.
Johnson, a freshman council member and native South Philadelphian has a strong track record of community enhancement, support for public education. He is pushing to obtain the delicate balance between gentrification and longtime homeowners in the district.
In the third district: Jannie Blackwell
In the fourth district: Curtis Jones Jr.
In the fifth district: Darrell L. Clarke
In the sixth district: Bobby Henon
In the seventh district, we strongly endorse incumbent Maria Quinones-Sanchez over challenger Manny Morales. Morales has not had an adequate enough explanation for a scandal last month involving his personal Facebook page, where posts widely considered racist and anti-gay were discovered. Morales claims his page was hacked but has provided no evidence. Even without the Facebook scandal against Morales, Quinones-Sanchez is the far better choice. She is a hardworking and effective legislator.
In the eighth district: Cindy Bass
In the ninth district, we endorse state Rep. Cherelle Parker to replace Marian Tasco, who is retiring.
In the tenth district: Brian J. O'Neill
Council at Large: Democratic incumbents: Blondell Reynolds-Brown, Wilson Goode Jr., Derek Green, William K. Greenlee and newcomer Paul Steinke. Republican incumbents: David Oh and Dennis M. O Brien."
Philadelphia Magazine
Mayor: Jim Kenney
"All elections are about hope, and this one more than most. So as we endorse Jim Kenney in the Democratic primary, we simultaneously challenge him: Bury the old Jim Kenney once and for all, and give us the New Jim Kenney that a New Philadelphia so desperately needs."