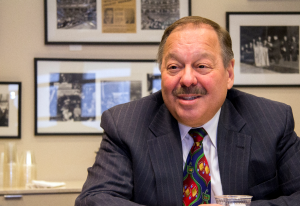 Philly mayoral candidate and former Common Pleas Court Judge Nelson Diaz has unveiled his campaign staff.
"I'm incredibly proud of the great team we're putting together," said Diaz. "Together, we're building a City of Opportunity where our schools have the resources they need to make investments in our future and all Philadelphians can succeed together."
Meet the staffers who are working to elect Nelson Diaz the next Mayor of Philadelphia.
Ian Rivera – Campaign Manager
Ian, a fellow alum of St. John's University, joins the campaign after three years working with top Democratic media consultants in Washington, DC. Before working in DC, Ian worked for Congressman Joe Crowley and scores of campaigns in New York, including on the 2008 Presidential campaign of then-Senator Hillary Rodham Clinton. Ian is the first Puerto-Rican American to manage a campaign for Mayor in the city of Philadelphia.
Adrienne Clark Mitchell – Deputy Campaign Manager
Adrienne is the only daughter of the late Philadelphia City Council-woman Augusta A. Clark, bringing more than 30 years of experience in Philadelphia-style politics. She is a subject matter expert in Special Ed, early intervention, urban education of special needs students and a veteran educator with more than 25 years of experience. Adrienne is a product of Philadelphia public schools, is currently a parent of two Central High school students and is a long-time advocate for children, families, teachers and public education.
Myles Koven – Finance Director
Myles is a Philadelphia area native with extensive campaign and fundraising experience. In 2014, Myles worked on Rep. Allyson Schwartz's 2014 gubernatorial campaign, managing her call time operation, before moving to Kentucky to fundraise on the Alison Lundergan Grimes senatorial campaign. Prior Myles previously worked as a field organizer on two successful congressional campaigns – for Congressman Matt Cartwright and Congresswoman Lois Frankel.
Barry Caro – Communications Director
Barry is a Center City resident with an extensive background in Democratic campaigns and communications. He has previously served in senior communications roles in some of the highest profile races in New York State, including gubernatorial, congressional, and county-wide campaigns, and was honored by New York's oldest political publication for his work in 2012. He is also active in New Leaders Council, the leading progressive leadership training organization for young professionals in America.
Leigh Owens – Digital Director
Leigh is a native Philadelphian who has worked in Philadelphia politics since 2006. In 2011 Leigh briefly moved to Washington, DC to work as a Political Editor at the Huffington Post. Leigh eventually moved back to Philadelphia and began work as the Deputy Digital Director for Tom Wolf for Governor, where he helped run one of the most successful digital operations in the country for the 2014 election cycle.
Gabriel Chorno – Policy Advisor
Gabriel, a local Latino attorney, is a former Philadelphia Assistant City Solicitor and served the U.S. Departments of State and Commerce in Iraq from 2008-2013. Gabriel has a bachelor's degree from Arcadia University, a law degree from the Dickinson School of Law-Penn State, and a master's degree in national security studies from the Naval Postgraduate School. He was born and raised in Cheltenham, PA.
Adelstein | Liston
Eric Adelstein and Ann Liston will lead paid media and strategic communications for the Diaz campaign. Recognized nationally for their award-winning creative and break-through victories Adelstein | Liston has taken on some of the highest profile, against-the-odds challenges in electoral, legislative and public affairs campaigns…and won. Along with serving on the senior strategy team for President Obama's re-election, Adelstein | Liston has helped elect 2 Presidents of the United States, 10 U.S. Senators, 30 Members of Congress, 16 statewide office holders, and over 100 state and local elected officials.
Lake Research Partners
Joshua Ulibarri and Daniel Gotoff of Lake Research Partners will handle the polling and focus groups for the Diaz campaign. Ulibarri is known as a leading methodologist of his generation of consultants and a sought after voice in progressive Latino politics. Together, Ulibarri and Gotoff have worked on winning mayoral campaigns in Pittsburgh (Mayor Bill Peduto), Houston (Mayor Annise Parker), Las Vegas (Mayor Carolyn Goodman), and many more. Just last year the LRP-team led the research efforts for newly elected Congressman Ruben Gallego (AZ-07) in his upset bid against a 20-year elected official.