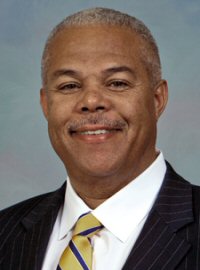 State Sen. Anthony Williams' mayoral campaign received a huge financial boost.
The senator's biggest investors are back. According to Dave Davies of WHYY, Three founders of the Susquehanna International Group, who funneled $5 million into Williams' 2010 campaign for Governor, have donated $250,000 to support Williams' mayoral candidacy.
The Susquehanna principal owners — Joel Greenberg, Jeff Yass and Arthur Dantchik — contributed the money to an independent pro-Williams political committee called American Cities launched last year.
The independent expenditure allows them to bypass Philadelphia campaign finance law, which prohibits candidates from accepting more than $10,000 from political committees per calendar year. Armed with court decisions like Citizens United, American Cities will be able to spend unlimited funds on Williams' media campaign.
With no candidate holding more than $500,000 cash on hand, this extra money from the Susquehanna investors is a crucial advantage for Williams as the candidates prepare to wage media campaigns in the expensive Philadelphia market.
And Williams already leads with cash on hand, ending 2014 with $426,000 in his war chest. The only candidate who comes close to matching Williams' numbers is former District Attorney Lynne Abraham, who has $410,000 on hand.