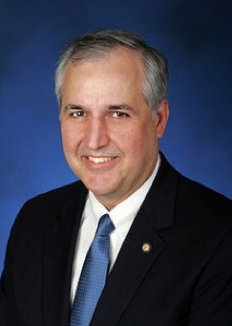 Apparently undeterred by liberal outrage on the subject, State Senate Majority Leader Dominic Pileggi (R-Delaware) has introduced a bill to change the way Pennsylvania allocates its electoral college votes in presidential elections.
It's the official legislative version of the plan the Republican floated in December. It was referred to the State Government Committee on Feb. 21.
Instead of the current, winner take all system, candidates would win votes proportional with their performance in the state's popular vote. The overall winner would win an additional 2 votes.
Like Republicans in several other states including Michigan and Virginia, Pileggi  backed away from an earlier iteration of his proposal; congressional districts would have no role in the proposed system.
Each electoral vote would correspond with 5.6% of the total popular vote in Pa., putting a presidential vote within reach for third party candidates here.
Had Pileggi's plan been in place in November, Barack Obama would have won 12 votes to Mitt Romney's 8 – thus reducing the Democrat's net gain in Pa. from 20 to 4. It's for that reason that Democrats from Harrisburg to DC have lambasted the proposal as a power grab by the GOP. Though in control of the levers of state government, Republicans haven't won a presidential contest in Pa. since 1988.
The bill is co-sponsored by 12 Senate Republicans, including several from southeastern Pa. who are likely Democratic targets in 2014: Senate Pro Tempore Joe Scarnati, Rich Alloway, Pat Browne, John Eichelberger, Ted Erickson, Mike Folmer, Stewart Greenleaf, Robert Mensch, John Rafferty, Tommy Tomlinson, Kim Ward and Gene Yaw.
Without corresponding action from House Republicans and Governor Corbett, the bill is unlikely to move. But, given that House Rs and the Guv have expressed support for the congressional electoral plan, it's not impossible.
PAGOP Chairman Rob Gleason has voiced opposition to the plan.
Pileggi spokesman Erik Arneson reiterated that the bill was intended to generate discussion and was not a top priority for Senate Republicans.
He said that the committee would hold a public hearing before any vote is held, and said no such hearing is presently on the schedule.