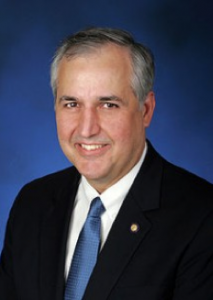 Dominic Pileggi is hoping to move from the legislative to judicial branch.
Today, State Senator Pileggi announced he will be running for a vacant seat on the Delaware County Court of Common Pleas.
"I'm proud of my accomplishments representing the residents of the 9th District, but as an attorney I've always had a strong interest in how our legal system is administered and a great respect for the Delaware County bench," said Pileggi. "As a Senator, I take a very deliberative approach on public policy matters and would do the same as a judge, considering all sides of an issue to reach a fair result. My experience in the Senate will allow me to bring a new, fresh perspective to the bench and the citizens of Delaware County. I look forward to the opportunity to continue my public service as a member of the Court of Common Pleas."
Pileggi's career was turned upside down last December when Sen. Jake Corman unseated him as Senate Majority Leader.
It has been rumored that the Senator would seek to become a Judge, in fact one of the bigger rumors during PA Society was that he would run for the State Supreme Court.
Pileggi graduated from the Villanova School of Law in 1982.